Chilean filmmaker Pablo Larraín teams with Oscar winner Natalie Portman for his first English language film Jackie, a strange, simple and stunning look at an integral part of American history and a human being's ability to process tragedy and loss with grace. John Lynch, Billy Crudup and Peter Sarsgaard also star.
Following her husband's assassination, Jackie Kennedy (Portman) must find a way to put her grief on hold in order to console her two young children, move out of a home she has grown to love, plan a funeral and moreover, maintain her appearance as a public figure. Additionally, in those difficult days following his death, she must also determine how the 'people' will remember the former President of the United States John F Kennedy – something that proves difficult for her to control despite best efforts.
Our verdict
"People like to believe in fairy tales," and just as well too, as Pablo Larraín's Jackie is certainly an unusual biopic. The film's peculiarity is clear from its very opening as Mica Levi's somewhat awkward, eerie-sounding score sets the scene before any visuals even appear. You see, most people already know what happened in Texas on 21 November 1963 and Jackie wastes no time in establishing that that's not what we're for.
Focusing on just seven days after the event, however, Larraín and screenwriter Noah Oppenheim are not left with much to focus on other than Kennedy's personal grief. To work around this, they weave in non-linear flashbacks offering up a brief glimpse into her life and marriage with her late husband, though the JFK references are few and fair between. This isn't his story, this is hers.
It's fortunate then that Larrain cast someone who is able to dominate every frame; Portman's natural grace and beauty commands the attention of the audience in every stunning yet jaw-dropping shot. Sequences that see Jackie walk through the opulent White House in a blood-stained pink Chanel suit, or squashed alongside John's coffin in the back of a tinted-windowed car justify the validity of Portman's unique onscreen beauty.
The actress is undoubtedly perfect for the role. Unlike the impish, warm faces of Emma Stone or Amy Adams, who are also earning Oscar buzz for performances in their respective films, Portman possesses the rare ability to appear expressive around the eyes but intensely closed-down internally. It wouldn't be far-fetched to describe her Jackie as cold and somewhat distant onscreen and yet her portrayal still remains likeable.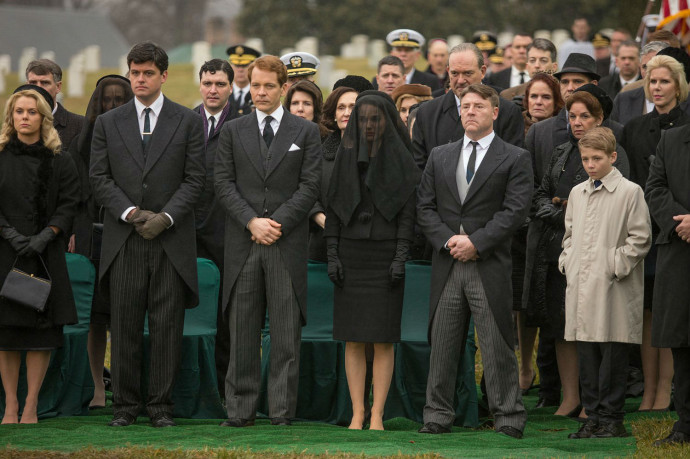 Portman's ability to switch between being believably standoffish and slightly more open in her conversations, suits the former First Lady – or at least Larraín's interpretation of her – down to the ground. The movie sees her, in her grief, offer up just enough to 'make a story' to all of the reporters, paparazzi and even confidants around her, very rarely letting her true feelings show and Portman sells that very notion, carrying it throughout, with ease.
It's evident throughout that Larrain and Oppenheim believed it important to present Kennedy as a pillar of professional stoicism – following that fateful car ride – rather than a broken woman but some of the movie's best moments are when she lets her emotions flow freely.
In a standout scene, which takes place aboard Air Force One, Portman's Jackie moves deftly from overwhelming sorrow, as she wipes fresh blood from her face between wails, to disbelief while looking on wide-eyed as Lynch's Lyndon B Johnson is sworn in as the next president only to then quiz a Secret Service agent as to which type of bullet he thinks killed her husband.
A brilliant depiction of shock, Jackie tries to cope by remaining distracted and asking 'pragmatic' questions. Another truly difficult-to-watch scene sees Jackie clamber over her husband, on to the boot of the car, shortly after he is shot to retrieve a bit of his skull (as many reports mentioned).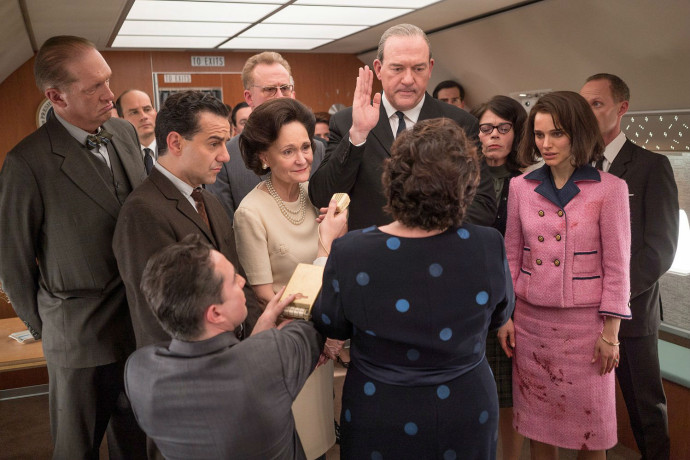 Interestingly, there are just a few scenes which deviate from the script's greatest thrust – the Theodore H White's Life magazine interview with Kennedy at Hyannis Port, Massachusetts. For said article, Kennedy famously proposed that White draw parallels between her husband and his run as President to King Arthur and his rule over the mythical kingdom of Camelot, inspired by the timely Broadway musical which they both loved. Similary, Jackie has somewhat of a dream-like quality about it, never allowing the audience time to wallow in its evidently tragic plot. Sadly, for that reason though, it's hard to connect with any of the characters on a deep level.
Due to obvious constraints, Larraín's biopic doesn't really offer up anything that people fascinated by 20th Century US history won't already know, nor does it delve as deeply as it thinks it does into Kennedy herself. For those reasons, Jackie will likely disappoint some, perhaps those after more detail surrounding the assassination.
But it shouldn't be discredited as – while its not a conventional biopic – you could argue its a film more fresh and exciting than the usual offering. It's interesting to see a filmmaker boldly use such a shocking piece of history and turn it into a delicate, completely stripped-back look at how acts of violence affected one woman's life, not just the nation. Here, the events of JFK's assassination is a catalyst as Larrain cleverly manipulates the events that followed, (much as Jackie Kennedy did with White's article) to morph the biopic into a engaging and thought-provoking study of loss, grief and simultaneously the lure and burden of celebrity.