James May has shed light on his long-term colleague Jeremy Clarkson after being his right-hand man with Richard Hammond on Top Gear for over a decade and now The Grand Tour.
The 53-year-old television presenter hinted on the prospect of parting ways with Clarkson and co in the Christmas issue of Radio Times, claiming he didn't expect to stay with the Amazon Prime series which he helped establish with 56-year-old Clarkson for so long. He said that "within the next five years I don't want to be fart-arsing around.
He continued: "We have to accept that fairly soon we will be too old for it. Richard Hammond is a reasonably fit bloke who looks after himself, me and Jeremy aren't.
"Jeremy is particularly decrepit and I find growing within me – I try to fight it for some reason, but I'm giving into it – a much stronger, nesty sort of instinct. Within the next five years I don't want to be fart-arsing around," he added.
May – who resides in Hammersmith, London – has enjoyed a huge amount of praise since The Grand Tour launched last month, and signed a deal with Amazon to produce three series of the show, which counts for 36 episodes over three years.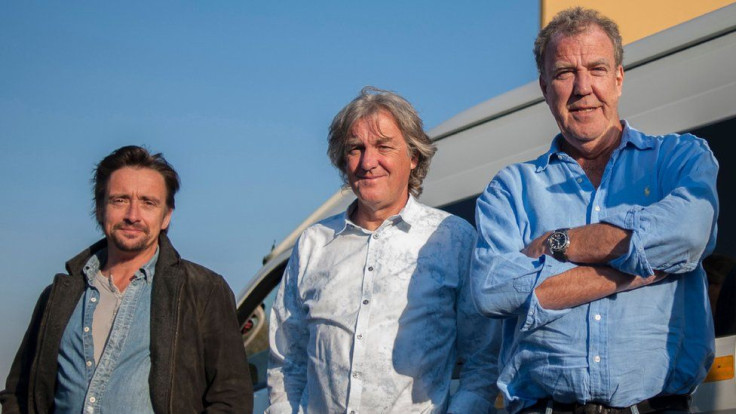 The presenter received a hefty pay cheque following his departure from the BBC – following Clarkson after he punched a producer over hot food – but doesn't feel obliged to continue working longer than he desires to.
He said: "I don't feel trapped because I'm just about in control of it. I'm not beholden to anyone, I'm not waiting for a pension or a carriage clock.
"But you have to know when to step back, and to be honest I thought it would have happened by now. Eventually I want some other people to do it."
And despite having a close relationship with Clarkson, he doesn't expect his old friend to show him support for his show, James May: The Christmas Reassembler, which airs on 28 December on BBC Four.
Admitting there is no way Clarkson would appear as a guest, he said: "No. He's not interested. We're so different. I don't want Jeremy Clarkson anywhere near my shed or my toolbox or my piano. He's interested in fashionable restaurants and celebrity gossip – I'm not interested in those."
The Grand Tour will continue to air over the festive period, with new episodes dropping on Amazon's streaming service every Friday.