The Grand Tour didn't fail to excite viewers with its action-packed second episode on Amazon Prime on Thursday night (24 November). After receiving rave reviews for their launch night last week – attracting hundreds of new members to the streaming service – Clarkson and co were under tremendous pressure to maintain their high standards.
The £160m show continued its grandiose start with the second episode, Operation Desert Stumble, and moved further away from comparisons to Top Gear as there were few cars in sight.
Instead, the focus on the Johannesburg-set episode saw Jeremy Clarkson, Richard Hammond and James May conduct a real-life military practice in Jordan where they took down terrorists in a made-up town and 'rescued' the Queen – with 'real' guns. Who would have thought producers would have trusted Clarksy with a firearm? A fist usually does the trick...
The explosive scenes that followed were almost comical as our new three James Bonds endured a computer game type scenario where they constantly got killed while attempting to work out how grenades function, dropping down on helicopters and all sorts.
Using all types of weaponry from guns and knives, the trio were tasked with rescuing The Queen who is apparently on board a hijacked plane. They then shot a load of hostages on boarding the aircraft before getting Her Majesty to safety and drove her off in an Audi – which they so happen to be road testing. Two birds 'n all that.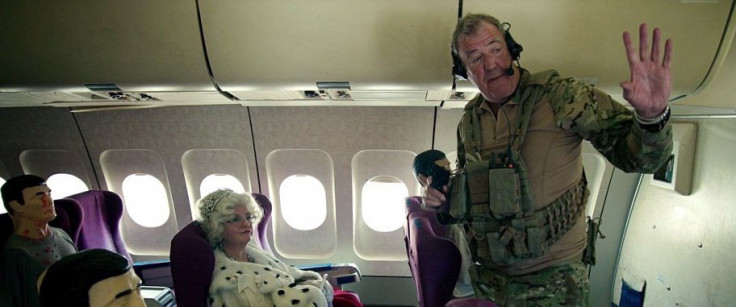 Clarkson – who was injured in the skit – shocked viewers when he got stuck in a window during a raid his trousers fell down as he abseiled out of a helicopter. It all ended up being a rather bloody affair, as the trio all get shot at some point in the episode.
The surreal scene comes to an end with Clarkson writhing on the floor in pain while The Queen asks him: "Have you come far?"
But how did the viewing public react? One user on Twitter said: "Anyone else think the first Grand Tour episode was a little bit forced/stilted? Hope they relax into it a bit more", while another put: "maybe @JeffBezos should slash @thegrandtour budget by at least half so they'll have to resort to being a car show".
Many seemed impressed, with one person stating: "Watching @thegrandtour. What an opening montage." Another added: Watched the second episode of @thegrandtour and it's still absolutely amazing... POWERRRRR".
Episode three of The Grand Tour is available on Amazon from Friday 2nd December.