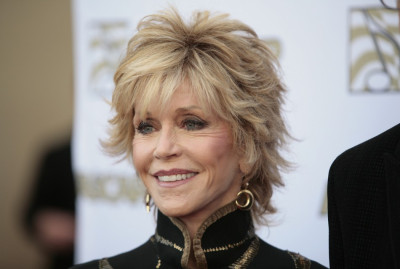 She is an Oscar-winning actress, a style icon and a respected political activist and now Jane Fonda has marked another milestone - she has turned 75.
Born on 21 December, 1937, the Monster-in-Law star comes from Hollywood royalty. Her father was legend Henry Fonda (12 Angry Men, the Grapes of Wrath, On Golden Pond) and her brother is Easy Rider actor Peter Honda.
Although she made her film debut in 1960's Tall Story, it was her standout roles in Klute and Coming Home in the 70s that propelled her to superstardom.
Not satisfied with being a successful actress and coveted pin-up, the excercise guru moved into the world of fitness and won millions of fans with her workout films of the 1980s. Her 1982 release of Jane Fonda's Workout has often been creditted for revolutionising keep-fit.
It is her dedication to staying fit that she says has kept her looking decades younger than her actual years.
"The most important thing comes from the inside and in that sense, exercise and yoga, in particular, helps," she recently told Access Hollywood.
"If you feel good about yourself, if you feel good in your skin, in addition to having friends and love around you, it comes through your eyes and your face and your smile and I think people - they don't realize that's what they're picking up on. It's an attitude that matters more than anything."
More than five decades on, Fonda continues to maintain her status as enduring survivor of Hollywood and the one of the most respected actresses in the industry.
The mother-of two is also a well-known social and political activist. She has put voice to multiple Human right issues and her anti-Vietnam War protest made headlines in the early 70s. Since the mid-90s, Fonda, who is the Goodwill Ambassador for the United Nations Population Fund, focuses on empowering women and girls through various campaigns and talks.
Fonda, who is dating music producer Richard Perry, was previously married to French director Roger Vadim, social activist Tom Hayden and CNN founder Ted Turner.
IBtimes UK takes a look back at the Tinseltown legend over the years...