Japan: Blast at controversial Yasukuni war shrine, no injuries reported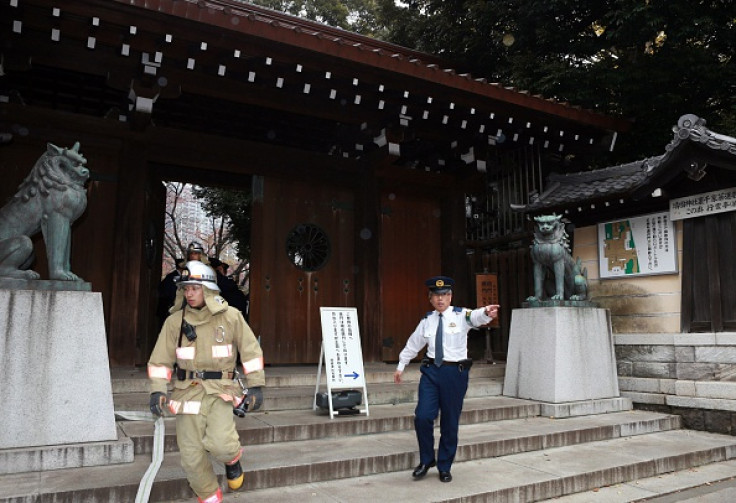 An explosive device is said to have caused a blast at Japan's controversial war memorial, the Yasukuni shrine. No injuries have been reported following the blast that left gaping holes in the ceiling and burn marks on the floor.
Around 100 police officers, fire-fighters and shrine officials gathered at the site along with a bomb unit after the explosion on Monday (23 November). Police have been combing the area for more potential threats. The explosion occurred at the men's toilet on the southern entrance of the shrine grounds. A fire that resulted was quickly put out.
Tokyo metropolitan police declined to comment as the case was under investigation, but sources said police think foul play was definitely involved and are looking at terror angles. Dry batteries and other objects, believed to be parts of other unexploded devices, were found at the scene. Footage from security cameras will be reviewed for clues on who might be behind the explosion.
Monday being a Labour Thanksgiving public holiday in Japan, there were more visitors at the shrine. In addition, a special Festival of Fruits was being conducted at the main shrine in the morning.
The shrine which honours the war dead, including those who died in World War II, has long been a source of contention between Japan and its Asian neighbours, who believe it glorifies the county's militarist past. Yasukuni also enshrines 14 convicted Class-A Japanese war criminals of WWII.
The place, however, holds an emotional significance for many because during the war soldiers promised each other that they would reunite at Yasukuni if they died. Emperor Akihito has not visited the shrine for official tours in the recent past, and Prime Minister Shinzo Abe has avoided visiting the place following his visit in December 2013.

© Copyright IBTimes 2023. All rights reserved.