A brawl broke out in Japan's parliament on 17 September after the upper house approved legislation for the controversial security bills that would allow the country to send troops to fight abroad for the first time since the Second World War.
The chaotic scenes showed opposition lawmakers try to physically prevent the vote from taking place. Broadcast live on national television, politicians can be seen pushing and shoving one another, in a rare show of physical anger, as members of the opposition tried to grab the microphone and stop Masahisa Sato, acting chairman of the upper house special committee, from carrying out the vote in parliament.
The legislation has sparked huge protests from ordinary voters, with thousands of people demonstrating outside parliament in opposition to the bills.
A poll carried out over the weekend and published on 14 September by Japanese newspaper Asahi Shimbun showed 54% of the public opposed the legislation against 29% who backed it, with 68% in the survey saying they saw no need to enact the bills during the current session.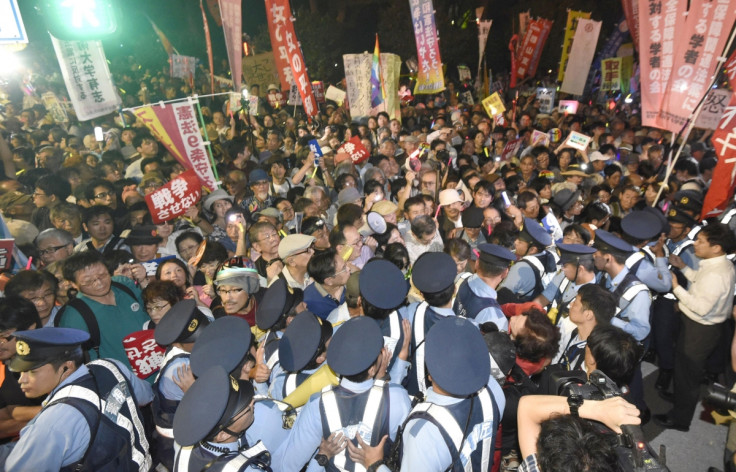 The government says the changes to the law are vital to meet new challenges, such as that presented by rising neighbour China, whose recent assertiveness in the South China Sea has upset countries in the region.
But opponents say the revisions, which the government aims to get voted into law by the entire upper house this week, violate the pacifist constitution and could embroil Japan in US-led conflicts around the globe.
Prime Minister Shinzo Abe's ruling bloc has an upper house majority, but opposition parties have vowed to prevent a vote by the full chamber before parliament disperses on 27 September even if they have to use delaying tactics, such as no-confidence and censure motions. The legislation has already been approved by the lower house.
Japanese media speculate that the bill will now head for a full session of the upper house as early as 18 September where the opposition has vowed to use more delaying tactics.