Japan is closely monitoring the situation as the first ferry service linking North Korea and Russia completes its maiden voyage.
Expressing concerns over Moscow's willingness to kick-start the cargo-passenger ferry link with the hermit kingdom amid a global attempt to isolate the country, Tokyo has pledged to convey its stance to Russia through diplomatic channels.
The vessel, Mangyongbong, carried about 40 passengers and no cargo when it arrived in the Russian port of Vladivostok on Thursday, 18 May. The tourist ferry, operated by Russian shipping agency InvestStroiTrest, originated from the North Korean port, Rajin and is expected to make once-a-week regular trips between the two ports.
This is the first service between North Korea and Russia via water as transport via air and rail already exist. InvestStroiTrest hopes most of Mangyongbong's passengers to be Chinese tourists who would be able to visit both Russia and North Korea in a single trip.
"Now in China tour operators already provide tour packages with our cargo-passenger service," Mikhail Khmel, deputy director general of InvestStroiTrest said. Besides carrying tourists, the vessel is expected to transport humanitarian aid from Russia and North Korea-made products in return. The vessel's operator has said the service is meant only for business and serves no political motive.
Built in 1971 and thoroughly refurbished in 2016, the ferry could carry up to 200 passengers and nearly 1,500 tonnes of cargo.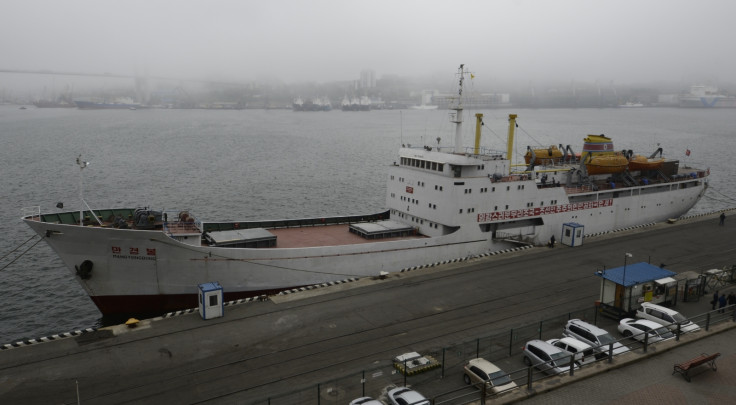 North Korea, reeling under intense economic sanctions imposed by the UN, is desperately looking for various means to improve its revenue-making resources. With the exasperated China – a key trading partner of North Korea – there are apprehensions that Pyongyang would turn to Russia to fill the supply gaps left by Beijing.
Tokyo was quick to react to the latest development. "We believe it is necessary that all countries should exert pressure on North Korea for engaging it in a dialogue. Therefore, we would like to see how such steps of Russia will influence the international efforts on North Korea's issue. In our view, all countries, including Russia, should closely cooperate with the goal of preventing provocations (of Pyongyang) and complying with the UN resolutions," Chief Cabinet Secretary Yoshihide Suga said.
.