The Japanese parents who left their seven-year-old child in a bear-infested forest as punishment will not face charges, police have announced. Yamato Tanooka went missing for six days after his mother and father left him in the woods of Hokkaido on 28 May. The boy was taken to hospital after he was found to be suffering from mild dehydration, from where he has now been discharged.
"We plan not to regard it as a criminal case," AFP news agency reported the Hokkaido police spokesman as saying. The parents may be referred to social services.
Takayuki Tanooka and his wife were at the receiving end from many in Japan for ordering their child to get out of the car as a disciplining method for being naughty after he threw stones at people and vehicles. When the couple returned after a few minutes to pick up the boy, he was gone. The entire episode has sparked a debate on parenting and child disciplining across the country.
Lawyer Tory Numata, who handles domestic violence cases, said: "Considering the factors behind the case, the chances of making it a prosecutable one are extremely slim."
More attention will now be given to the boy's mental care, focusing on possible trauma from the ordeal, Numata said.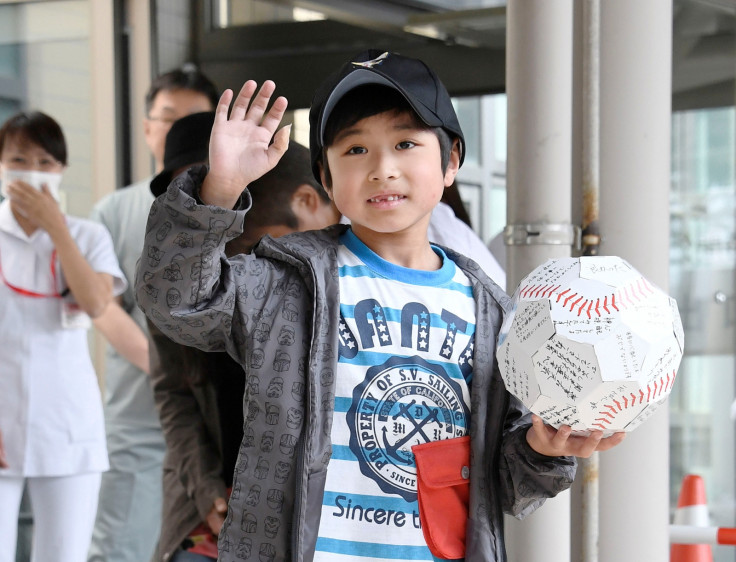 The police questioned the boy, who was accompanied by his parents, in the hospital for about an hour on Monday (6 June), local media Tokyo Shimbun said.
"I walked for about five hours, I think," Yamato was quoted as saying by the newspaper. "I was so cold so I went inside to sleep."
The seven-year-old was found sheltering at a military base, about 3.4 miles away from where he went missing over a week ago, by a rescue team comprising of 200 members and search dogs.
Earlier, the 44-year-old father apologised to his son and the boy too forgave him. In a state TV interview, an emotional Tanooka said: "I said to him, 'Dad made you go through such a hard time. I am sorry.'" The boy had replied: "You are a good dad. I forgive you."
"I was wrong, because I didn't listen to what my dad was saying," Japanese daily Sankei Shimbun quoted the boy as saying.