Japan is planning to turn the athletes' village for the 2020 Olympics in Tokyo into a "hydrogen town", where electricity and hot water are generated from hydrogen.
Japanese newspaper, Yomiuri Shimbun, reported that the Tokyo metropolitan government has decided on the plan, which is set to be the "largest experiment employing the new energy source".
After the Tokyo Olympics are over, the electricity and hot water generated with hydrogen energy are expected to be furnished to a school, and commercial and other facilities to be constructed on the village site. The village will later be converted into a town with a population about 10,000.
The metropolitan government plans to construct hydrogen filling stations by 2020 in Harumi district of Chuo Ward, Tokyo, where the Athletes' Village will also be located.
As per the concept, pipes will be laid around the village to distribute hydrogen to housing facilities, training centres, cafeterias and others. Fuel cells installed at each station will generate electricity and heat through the reaction of hydrogen and oxygen in the air, the newspaper said.
Further, the pipes will be used to charge the fuel cells of buses used to transport athletes and others during the event.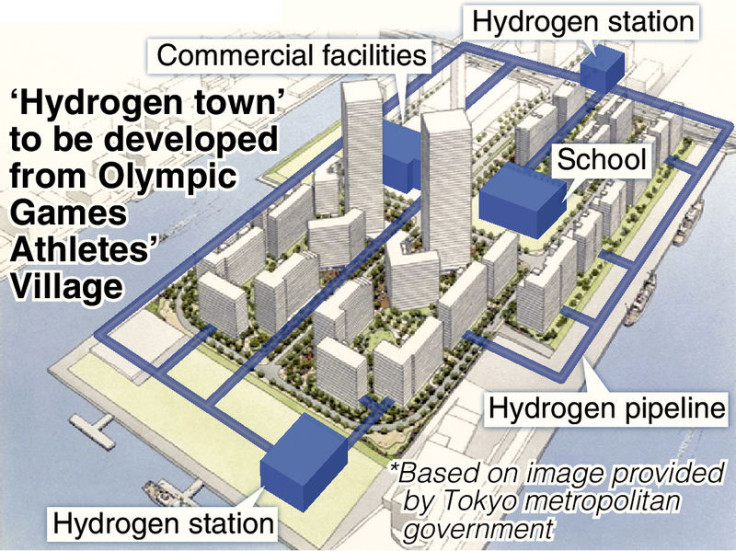 The metropolitan government is set to begin accepting applications from private firms that want to submit business development plans for the Athletes' Village, the newspaper said. The proposals will be required to incorporate the use of hydrogen energy.
"The realisation of hydrogen energy-based society is an important goal for the nation as we are poor in natural resources, and it also contributes to the reduction of greenhouse gas emissions," the newspaper quoted Prof Takeo Kikkawa of Hitotsubashi University, as saying.
"Though we still have quite a few technological challenges to resolve, the Tokyo Olympics is a great opportunity to promote the commercialisation [of hydrogen energy]. And the Athletes' Village, which will be constructed from scratch, is ideal for conducting a large-scale experiment."
The concept of using hydrogen as energy source has been considered by scientists worldwide, as traditional sources are contributing largely to pollute the environment. Hydrogen power is a clean energy source, because it produces only water as a by-product.
In December, Toyota Motor rolled out the world's first mass-market fuel-cell car in Japan.