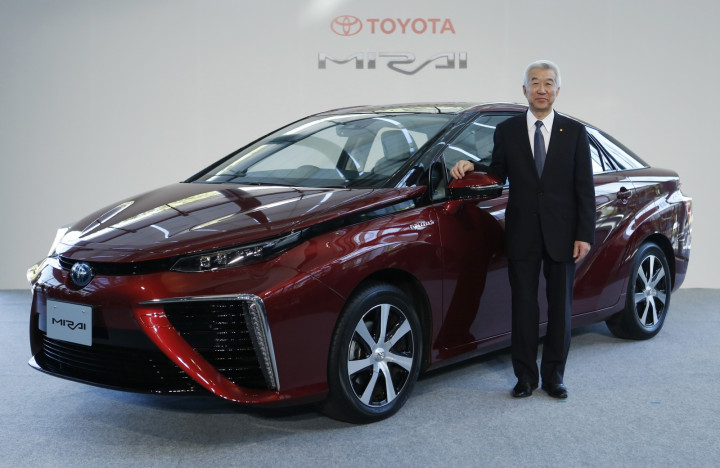 Japanese Automaker Toyota will begin the sale of its historic emissions-free, hydrogen powered vehicles from December in its home country.
The company will start selling fuel cell cars in Japan on 15 December and in the US and Europe in mid-2015.
Named Mirai, the sporty-looking, four-door mid-size sedan is priced at 6.7m yen ($57,600, £36,800, €46,000) before taxes. The company plans to sell 400 units in Japan and 300 in the rest of the world in the first year.
The Japanese government is planning to offer a 2m yen subsidy to buyers of fuel cell cars, reducing the effective price.
"In time, the fuel cell vehicle will become mainstream. We wanted to take the first step," said Mitsuhisa Kato, Toyota executive vice president.
"We want to be at the leading edge."
The vehicle has a tank on board that carries hydrogen, and it can cover about 300 miles with one tank full of the gas. In addition, it takes only five minutes to recharge, in contrast to longer time for all-electric vehicles, and emits only water vapour.
However, the lack of availability of hydrogen-filling stations remains a drawback for hydrogen-powered vehicles. Toyota expects a surge in the number of hydrogen stations in the near term, as the vehicles go mainstream.
"This is the very beginning of this hydrogen society, so you may have to start small in somewhere like California, and then grow over time and that's what I think will happen," said Toyota North America CEO Jim Lentz.
Toyota's rival Honda is preparing to launch its own fuel cell variant named Concept.
In June, Hyundai launched its first hydrogen fuel-cell vehicle in the US, with free hydrogen refuelling for those who lease the Hyundai Tucson Fuel Cell CUV.