A stranded humpback whale found on the shore off an Australian coast was put down on Saturday (10 June) after its condition worsened while waiting to be refloated. The yearling male whale was nine-metres long and weighed about 10 tonnes.
It washed onto Sawtell Beach, south of Coffs Harbour in New South Wales (NSW) early on Friday. However, rough sea conditions hindered rescue attempts on the same day.
NSW National Parks and Wildlife Service personnel were monitoring the creature throughout Friday and had planned to refloat it by boats with the high tide on Saturday morning. Veterinarian volunteers were reported to have stayed with the animal all night to keep it wet.
However, the planned refloat had to be cancelled due to poor weather conditions, local media reported.
The whale had to be euthanised when its health condition deteriorated and the decision was taken to ease its suffering, the Australian Broadcasting Corporation reported Lawrence Orel from the National Parks and Wildlife Services as saying.
"It's been a very, very difficult afternoon for everybody involved," said Shona Lorigan, vice president of Orcca, a marine rescue organisation.
"Mother nature's not helped us today, the waves are getting bigger as I watch," she said. "We had no hope of getting boats in until at least Monday."
The juvenile whale was believed to have been on its first migratory route from Antarctica to warmer waters in northern Australia after being weaned, Lorigan said.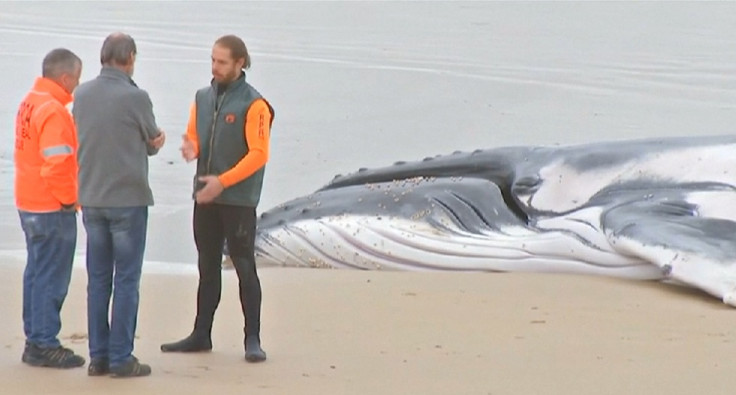 Lorigan added that even if the whale had been put back into the ocean, due to its poor health, it might have got into trouble while making the long journey to warmer waters, the Australian reported.
Sawtell beach was closed during the euthanasia operation.
Authorities have made arrangements to remove the whale from the beach and bury it.
According to ABC, an estimated 30,000 humpback whales swim past Australia every year. Of these, some 10 whales are reported to get stranded every year.