Jared Kushner, President Donald Trump's son-in-law, has reportedly been identified as a "person of interest" in the ongoing investigation into alleged Russian interference in the US presidential election.
It follows a report from the Washington Post that revealed the investigation into alleged collusion climbed to the highest levels of Trump's administration, without going as far as saying who was under scrutiny.
But the number of people that fit the profile are limited and Kushner, who is married to Trump's eldest daughter Ivanka and a senior advisor to the president, is one of them.
Yashar Ali, a contributing writer at New York Magazine, wrote on Twitter: "Person described as 'close to the president' and a 'senior advisor to the president.
"Only two people fit: Jared Kushner and Stephen Miller.
"It's Jared Kushner. Have confirmed this with four people. I'm not speculating."
Greg Miller, the Washington Post's national security correspondent, also tweeted to say that Kushner was acknowledged by the White House to have had contacts with Russian officials.
The revelation came as Trump boarded Air Force One for his first foreign trip as president and looked to escape the mounting crisis at home. Kushner has joined him on the trip and is expected to play a key part in negotiating an arms deal with Saudi Arabia.
Claims that Kushner is the "person of interest" come as former FBI director Robert Mueller was appointed as special counsel to investigate Trump and his ties to Russia.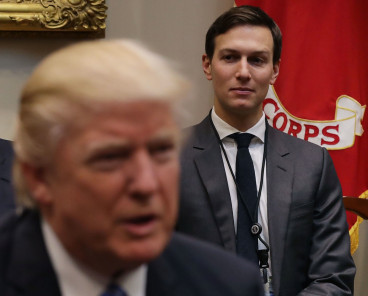 Adding to the speculation surrounding Trump, the New York Times reported that during a meeting between the president and Russian Foreign Minister Sergei Lavrov, he told Russian officials: "I just fired the head of the FBI. He was crazy, a real nut job.
"I faced great pressure because of Russia. That's taken off."
James Comey, the former FBI director fired by Trump, will testify in an open session of the US Senate Intelligence Committee in June, members of the committee confirmed on Friday.