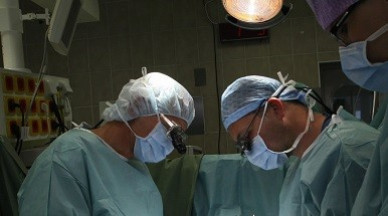 A man accused of biting his neighbours penis "like a sandwich" in a row over loud music says he could not have done it as he hardly has any lower teeth.
Jason Martin, 41, is currently on trial accused of biting 39-year-old Richard Henderson's genitals through his pyjamas.
The prosecution alleges that Martin attacked his neighbour after he received a text message asking him to turn his music down at his home in Dover. The argument escalated when Henderson made a joke about Martin's alleged drug abuse.
Henderson bled profusely and needed stitches following the alleged attack from Martin, who was found with blood around his mouth by officers.
Henderson told the jury at Canterbury Crown Court: "My willy was not attached to the rest of my body.
"I have never experienced that kind of pain to this day and I don't want to experience it ever again".
Martin, of Dover, Kent, has denied biting on the penis of Henderson, adding that the thought of it "makes him sick".
He told the court: "I didn't do that... I am not homosexual and there is no way I would put a man's penis in my mouth".
Martin added that he only has two teeth in the lower part of his mouth and he wouldn't even be able to "bite into a hard-boiled egg".
Martin does admit grabbing Henderson's "bits and bobs" with his hand during the fight. He told the jury the blood round his mouth was due to a "fat lip" he received from Henderson during the scuttle.
The defendant told the court: "I had just grabbed around him (Mr Henderson), I didn't realise at the time that I had done anything to him. I just grabbed into an area, I didn't realise at the time it was his testicles.
"I didn't know if it was his penis or his testicles or his upper leg or arm. I didn't know what it was. I was just getting beaten up and I was scared.
"Now I know what happened, I can't be any more sorry for Mr Henderson".
The trial continues.