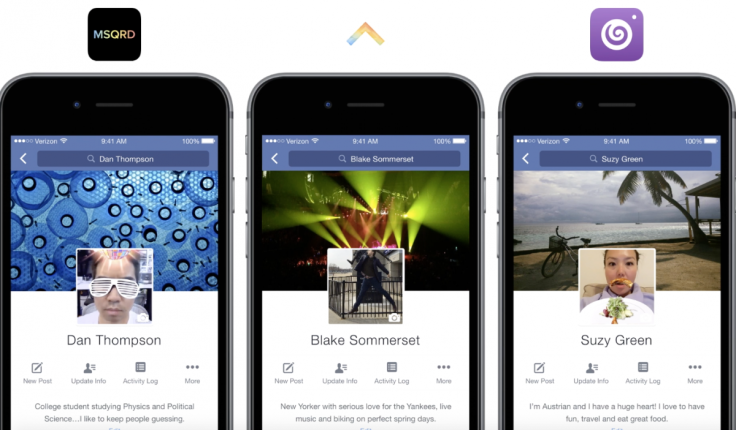 Facebook has partnered with six popular video apps to allow users to jazz up their profile pictures with creative art, animations and videos through its new "Profile Expression Kit". Launched at Facebook's F8 Developer Conference in San Francisco on 12 April, the software development kit (SDK) is currently available to a select group of beta partners for the iOS versions of their apps, including Twitter-owned Vine, Boomerang by Instagram, Lollicam, BeautyPlus, Cinemagraph Pro from Flixel and MSQRD.
"Profiles are the version of you you choose to curate and put out into the world," Facebook product marketing manager Ryan Houx told Forbes. "Videos are big on Facebook, and we want to give people a way to express themselves in a fun way. This lowers barriers for creative expression."
Using one of the handful of approved apps, users can create their own short, GIF-like video to bring a unique sense of humour, personality and style to their Facebook profile. Profile videos generated through these apps can either be temporary or permanent, with Facebook giving users the option to set a timer on the new profile video. Users will also be able to select a thumbnail of their video to appear in apps that don't allow for autoplay such as Tinder or Spotify.
While selfie-centric apps BeautyPlus and Lollicam were likely selected due to their popularity in Asia, popular face-swapping app MSQRD was acquired by Facebook in March 2016.
The social networking giant said the feature would be available on the Android versions of the partner apps within the next few weeks and it was opening up the SDK to other developers to integrate their own video apps as well. Every time a user uploads a new profile video created using one of the partner apps, an update with an attribution link to the app developer will be generated in News Feed.
Facebook profiles garner more than 4.5 billion views and almost 30 million profile picture updates daily, according to Facebook product manager Aigerim Shorman, making it "the best place to curate your own identity and learn about others".
In September 2015, Facebook rolled out the ability to use a 7-second looping video as ones profile picture instead of using regular, old static photos.
It is also likely that the new update is geared towards encouraging users to create and share more original content on the social network. According to a report in The Information, overall sharing reportedly fell 5.5% from mid-2014 to mid-2015. People are also posting fewer personal updates with those types of posts dropping 21% during the same timeframe. The decline has slowed down to 15% in 2016.