A jealous boyfriend has been found guilty of knifing his partner to death in front of her 22-month-old daughter, after he discovered that she had kissed another man.
Dylan Harries is facing life in prison after being convicted at Swansea Crown Court on Friday (13 October) of murdering on-off girlfriend Katrina Evemy in Llanelli, Carmarthenshire.
The 22-year-old repeatedly stabbed the 19-year-old young mother after secretly using her phone to send a text message to the man she had kissed.
During the trial the court was told Evemy believed the relationship was over and had kissed another man at a local bar, leaving Harries feeling "betrayed".
His brutal, frenzied attack left Evemy's daughter covered in her mother's blood. After spending six days on a life support machine the mother-of-one died in hospital.
Prosecutor Patrick Harrington QC said according to the Daily Mail: "Harries arrived at the home of his some time girlfriend Katrina, he went into the house and inflicted appalling injuries upon her by stabbing her repeatedly.
"The attack was done in the presence of the victim's young daughter who herself became covered in her mother's blood. Not only did he inflict appalling knife wounds, he also bit Miss Evemy on the arm."
Jurors heard how Evemy was stabbed in the eyes, suffered a serious stab wound to her liver and was slashed across her throat, severing her windpipe in the attack.
Evemy went into cardiac arrest after losing blood supply to the brain and never regained consciousness.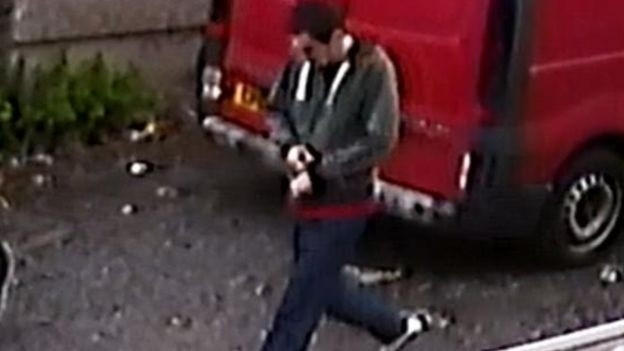 Harries had claimed that he never harmed her and merely found her wounded when he arrived at the property on 13 April this year, but this was rejected by the jury.
Harrington added: "Harries is by nature possessive and jealous. He had that day learned that Miss Evemy had kissed another man."
The court heard how on the day of the murder Harries stole Evemy's phone and started texting the man she kissed before telling the man that he was in fact her boyfriend.
When the man confirmed that they did kiss prosecutors said Harries walked two miles from his house to Evemy's home armed with a knife and carried out the bloody attack.
Harries will be sentenced on Monday (16 October).