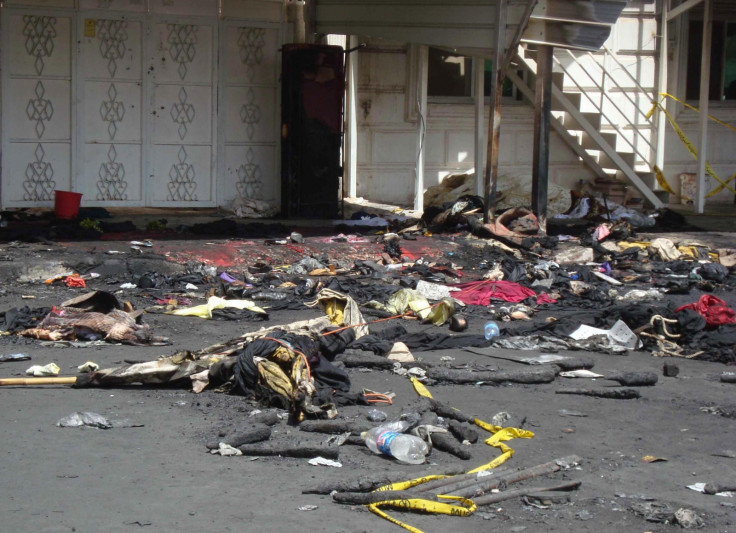 A woman who killed 58 people including children after setting fire to a wedding tent while her husband was taking a second wife was among seven people to have been hanged in Kuwait.
The mass executions, ordered by the county's ruler Sheikh Sabah Al Ahmad Al Sabah, were the first death sentences to be carried out in Kuwait for several years.
Among those hanged in the Kuwait's central prison include royal family member Faisal Abdullah Al Jaber Al Sabah, who was found guilty of killing his nephew Basil Al Sabah in 2010, as well as two Egyptians, a Bangladeshi, a Filipina, and an Ethiopian.
All those who were hanged had been convicted of murder, except the Bangladeshi man, who was convicted of rape, kidnapping and theft, reported state-run KUNA news agency.
In 2010, Nasra al-Enezi was convicted of the premeditated murder of 58 women and children after setting fire to a tent during the wedding of her husband in the city of al-Jahra in August 2009.
The Bedouin-style tent was set up for the ceremony so women could attend without having to cover up. The tent only had one entrance, resulting in may being unable to escape the blaze and dozens more being injured in the ensuing stampede.
The fire, which is one of the worst civilian disasters in Kuwait's history, resulting in the country banning the Bedouin-style wedding tent.
Her lawyer, Zaid al-Khabbaz spoke to his client a month before she was hanged. He told the Associated Press: "She sounded very fragile, very shaken, more than any other time. It's impossible to say that she intended to kill all those women and children...It was a tragedy."
There hasn't been a hanging of a prisoner in Kuwait since 2013 when a Pakistani, a Saudi and a "Bidoon" - a name used in the emirate for people without citizenship - were executed.
Amnesty International spokesperson Samah Hadid described the mass executions as a "shocking and deeply regrettable step backward" for Kuwait.
He added: "By choosing to resume executions now, the Kuwaiti authorities have displayed a wanton disregard for the right to life and signalled a willingness to weaken human rights standards."