"We must remember that in the brutality of battle another such apocalypse is always just around the corner." — Sebastião Salgado.

In early 1991, as the US-led coalition drove Iraqi forces out of Kuwait, Saddam Hussein's troops retaliated by igniting violent, raging fires across some 700 oil wells, creating one of the worst environmental disasters in living memory. Desperate efforts were made to contain and extinguish the vicious infernos, but the conflagration progressed. Photographer Sebastião Salgado travelled to Kuwait to witness the crisis first-hand, and has now published a book of his photographs, taken in sweltering temperatures.

Kuwait: A Desert on Fire is the first detailed insight into Salgado's journey since they first appeared in the New York Times back in June 1991. The book has been released at a time when similar scenes are occurring in Iraq. People in a vast swathe of countryside around Mosul are having to cope with black toxic clouds after Islamic State extremists set fire to oilfields as they retreated.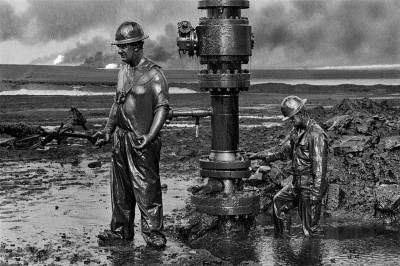 Travelling closely with the firefighters through excruciating conditions (the heat was so overwhelming that it caused his smallest lens to warp) Salgado captures the terrifying scale of this "huge theatre the size of the planet": the ravaged landscape; the air choking on charred sand and soot; and the flames and smoke soaring to the skies, blocking out the sunlight, dwarfing the oil-coated firefighters. Kuwait: A Desert on Fire is published by Taschen and can be purchased here.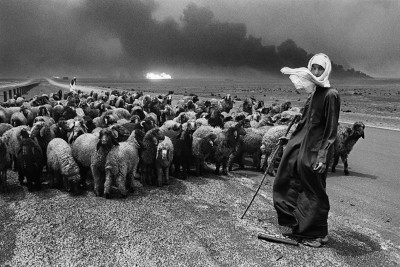 Kuwait: A Desert on Fire by Sebastião Salgado is published by Taschen and can be purchased here.