Amazon boss Jeff Bezos is reportedly planning to launch an "Amazon-like" delivery service for the moon to shuttle supplies for experiments, cargo and habitators by 2020 for future lunar colonies. Bezos' space company Blue Origin has reportedly been circulating a seven-page white paper dated 4 January to NASA leadership and President Donald Trump's transition team about the idea, the Washington Post, who obtained a company of the proposal, reported.
According to the Post, which is owned by Bezos, the proposal discusses Blue Origin's interest in building a lunar spacecraft that would touch down near Shackleton Crater on the moon's south pole where there is water and near continuous sunlight for solar energy.
During an Aviation Week awards ceremony on Thursday, Bezos said they are planning to partner with Nasa on the program called Blue Moon with the intent of "building a permanently inhabited human settlement on the Moon."
"It's time for America to go back to the Moon and this time to stay," Bezos said. "We can do it. It's a difficult but worthy objective."
He also added that the moon could help humans get to another "very glamorous and exciting destination" - Mars.
"I think that if you go to the moon first, and make the moon your home, then you can get to Mars more easily."
Bezos said Blue Origin could launch the first lunar mission as early as July 2020 but emphasized that it can "only be done in partnership with Nasa."
"Our liquid hydrogen expertise and experience with precision vertical landing offer the fastest path to a lunar lander mission," Bezos said. "I'm excited about this and am ready to invest my own money alongside Nasa to make it happen."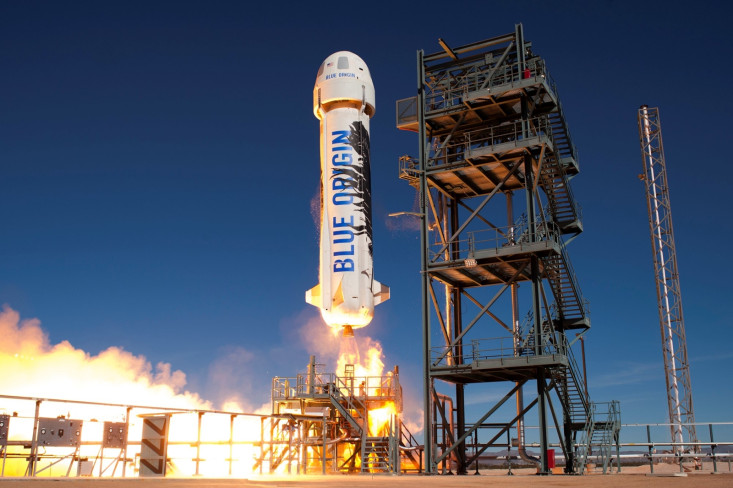 The document, marked "proprietary and confidential," reportedly showed what seemed to be a modified New Shepard rocket standing on the moon along with an American flag, the Nasa logo and Blue Origin's feather symbol, the Post reports. The Blue Moon spacecraft is expected to carry around 10,000 pounds of material and could launch on NASA's Space Launch System, the United Launch Alliance's Atlas 5 or Blue Origin's New Glenn rocket which is currently under development.
The white paper also urged Nasa to develop a program that offers "incentives to the private sector to demonstrate a commercial lunar cargo delivery service."
"Blue Moon is all about cost-effective delivery of mass to the surface of the Moon," Bezos wrote. "Any credible first lunar settlement will require that capability."
Blue Origin has successfully launched and landed its New Shepard suborbital rocket five times so far in less than a year. Last year, Bezos said the company plans to start taking its first paying tourists into space by 2018 and launch its first piloted test flights in 2017.
Bezos' most recent ambitious proposal comes after rival firm SpaceX CEO Elon Musk announced plans earlier this week to fly two unnamed paying private citizens on a trip around the moon by 2018. SpaceX also currently has a contract with Nasa to send supplies and fly astronauts to the International Space Station.