Jeremy Corbyn has defended investigations into alleged abuses by British soldiers who fought in Iraq and Afghanistan, after Tony Blair spoke out to end the "witch hunt".
The newly re-elected Labour leader said while many troops served under "awful conditions", allegations of misconduct had to be investigated to recognise international law.
Speaking in Sunday's Telegraph, former prime minister Tony Blair condemned the Ministry of Defence's (MoD) investigations and insisted the inquiries should never have been ordered in the first place.
More than 2,000 probes into personnel who served in Iraq and Afghanistan are being carried out by the Iraq Historic Allegations Team (Ihat), set up by the MoD.
Ihat aims to investigate claims of murder and abuse by British soldiers, but has come under fire for its handling of inquiries. Currently, it has dropped 57 investigations and has met with criticism from MPs, and faces its own inquiry by the Defence Select Committee led by Plymouth Moor View MP Johnny Mercer.
"I have spoken to a number of soldiers who have served in Afghanistan and Iraq and I recognise the awful conditions that they were asked to serve under, and the difficulties they had with that," Corbyn told the Andrew Marr Show on Sunday (25 September).
"But I do think there has to be a recognition that we have signed up for international law on the behaviour of troops.
"America is going through the same experience, as do other European countries even though they're not signed up to the International Criminal Court.
"So I think there has to be investigations, saying never to prosecute I think would be a step too far."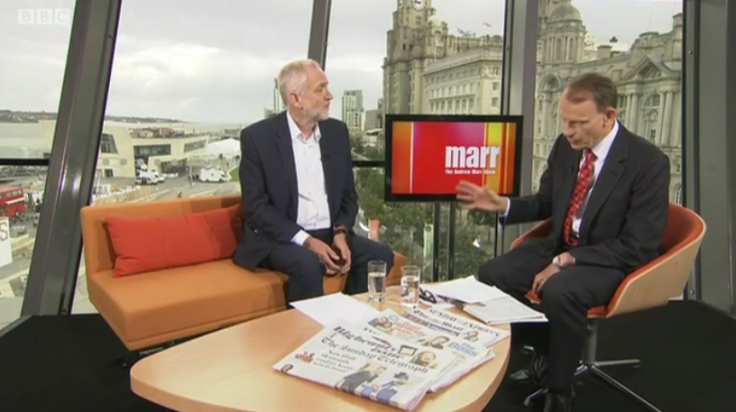 Corbyn also outlined his plans to instate a Minister for Peace and Disarmament should the Labour leader be elected to Downing Street.
"The lessons from Iraq, the lessons from Libya, the Chilcot report, show we haven't done things as well as we might," he said on The Andrew Marr Show.
"There has to be a political engagement which deals with the issues at source, for a political solution.
"I would be totally engaged by trying to bring about urgently a ceasefire [in Syria] and I recognise the current ceasefire has collapsed and that's a tragedy.
"I would have engaged with the Geneva peace talks from the beginning, with Iran, with Saudi Arabia. I would have engaged with everybody from the very beginning on this, to try and bring about a political settlement."
Corbyn also suggested he would like to see defence spending curbed, saying he didn't believe the MoD's budget should be increased and that it should be "efficiently used".
He also opposed plans to expand Secret Intelligence Service (MI6), saying increasing the size of the organisation responsible for spying and intelligence gathering outside the UK was "not particularly necessary".
"I think the issues are of cybersecurity and terrorism and random attacks, and that is not the same thing as having huge land based defence forces," he said. "There has to be security for everybody but I'm unclear on why MI6 needs to be so much bigger."