Prime Minister David Cameron and Labour leader Jeremy Corbyn stood shoulder-to-shoulder to pay tribute to MP Jo Cox, whose murder was described as "an attack on democracy."
Joined by Leeds MP Hilary Benn and Commons Chaplain Rose Hudson Wilkin, the party leaders added their bouquets to hundreds of others at the memorial to Ms Cox in Birstall, West Yorkshire, metres away from where she was killed.
The local born MP was shot and stabbed to death on the way to a constituency meeting in the town on Thursday. A 52-year old man has been arrested in connection with the attack.
The Conservatives, Lib Dems and Ukip all announced they will not contest the by-election resulting from her death.
Corbyn said: "Jo was an exceptional, wonderful, very talented woman, taken from us in her early 40s when she had so much to give and so much of her life ahead of her. It's a tragedy beyond tragedy what happened yesterday.
"In her memory, we will not allow those people that spread hatred and poison to divide our society, we will strengthen our democracy, strengthen our free speech."
Cameron said: "Where we see hatred, where we find division, where we see intolerance we must drive it out of our politics and out of our public life and out of our communities. If we truly want to honour Jo, then what we should do is recognise that her values – service, community, tolerance – the values she lived by and worked by, those are the values that we need to redouble in our national life in the months and years to come."
The mood was sombre, but locals celebrated the inspirational legacy of an MP tireless in her dedication to her community, sharing memories of the MP whose life touched many.
Taxi driver Sohaib Mushtaq from nearby Dewsbury said: "I got inspired by her personality and the way she carried herself. All the MPs do great work but she went the extra mile. She is irreplaceable." He said she had taken effort to help a friend interested in entering politics, and was a champion of local businesses.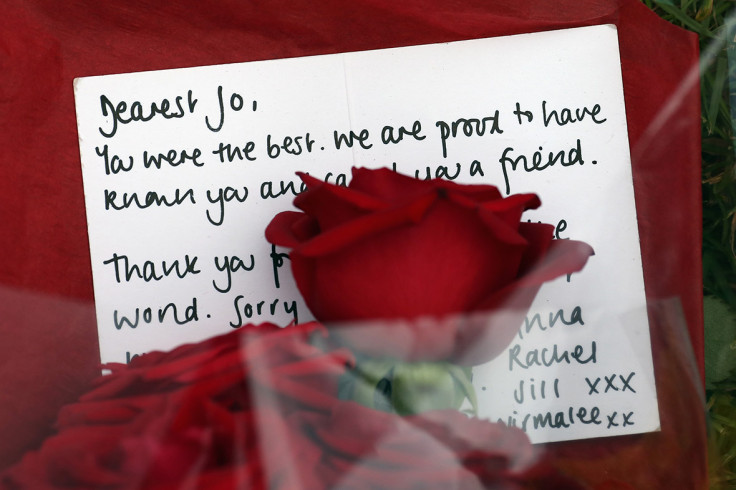 Birstall local Sharon Bedford said: "With it being so close on your doorstep I thought it was important to pay respects to the lady, a remarkable lady. It is something that needed to be done."
She said she had travelled from Castleford after returning from holiday as soon as she learnt of the death to lay flowers at the memorial. "She has done a lot. Such a young life taken," she said.
Visibly moved Labour colleague Barry Sheerman, MP for Huddersfield, came to remember a family friend and politician of great promise whose life was cut tragically short.
"I remember as my next door neighbour. As a very young woman the same age as my daughter. I have known her a long time, and we are all friends, and the tragedy is very very real for us. I feel almost guilty. We had a new grandchild on Sunday and were so happy and then … poor Jo."
He criticised an increasingly aggressive political culture, in which MPs were already forced to take increased security measures. "Female MPs have had horrible trolling on social media. A very small percentage of constituency complaints are very aggressive," he said.