The residents in a quiet estate in Birstall have spoken of their shock after a neighbour described as "mild mannered" and keen to help others was arrested in connection with the brutal murder of MP Jo Cox.
Cox, 41, MP for Batley and Spen, was shot and stabbed to death after a constituency meeting in Birstall, West Yorkshire on 16 June. She was declared dead by paramedics at the scene.
West Yorkshire Police said it had arrested a 52-year-old man – named locally as Tommy Mair – in connection with the killing. A picture is emerging of Mair as a quiet, ordered man, who one resident said had been seen acting erratically in recent weeks.
Neighbours who lived near Mair's semi-detached home in the quiet Fieldhead estate – a 15-minute walk from the murder scene – spoke of their bewilderment at his alleged involvement in a murder of an MP regarded as one of the Labour party's rising stars.
One woman, who declined to be named, said that two weeks ago she had seen Mair acting erratically. " He was in the Post Office acting erratically, mumbling and jumbling. And walking down the street mumbling. He was actually talking to the Asian taxi drivers, and being aggressive."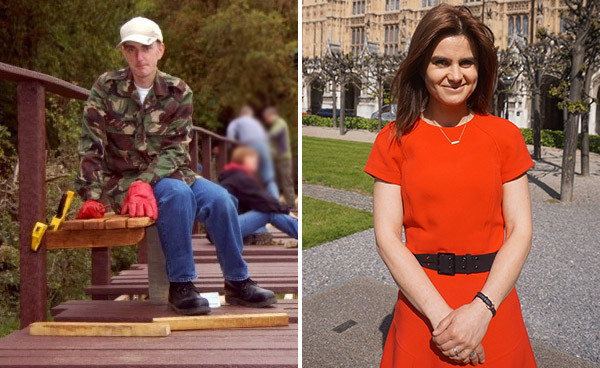 She said she recognised the man as Mair when his photo appeared on television after the attack.
Diane Peter, 65, said she had lived next door to Mair for 44 years, and had known him since childhood. "He was very mild mannered and kept to himself," she said.
"He has helped me. When I broke my leg, he came and did the garden without being asked. I have dogs and cats, and he helped with them. He helped with lifting and carrying."
She said that Mair moved to the area to live with his grandmother, Helen, as a child. She said that while his brother (Scott) was frequently in trouble with the police, Mair was a quiet child. Mair's half-brother Duane St Louis, 41, who is of mixed heritage, told the Guardian that Mair was a committed volunteer who never expressed racist views.
Peter said: "He is an epileptic, and has had a lot of fits at one time and has never worked. I think he has done a lot of volunteer work," adding that he told her he had volunteered helping to teach English as a foreign language.
Neighbour Angeline McCintyre also said that Mair was always willing to help neighbours. "He kept himself to himself. He went out to do his community work," she said. "He knew a bit about computers, so he helped other people to do things online, to fill in forms online. He did other people's gardens, and did the garden for a woman in her 90s on the corner."
She said she had never seen him with a friend or partner. "His grandma died about 15 years ago and he used to have cats but he does not seem to have anything now. I've never seen him with another man, woman or anything."
Peter said that she was shocked by his arrest, and he acted normally when she spoke to him 24 hours before the murder. "He likes cats, he has taken in many a stray, and we spoke about my cat. Of his alleged involvement in the crime, she said: "I would more likely believe it if you told me he had turned into Santa Claus."
The attacker allegedly shouted "Britain first" before launching at the victim. The far-right party Britain First has denied any connection with the attack. US Anti-racism organisation The Southern Poverty Law Centre claim that Mair ordered a neo-Nazi terror manual published by the National Alliance.
Peter said that Mair never spoke about politics. She said: "He was not opinionated and never spoke about about politics, we just spoke about our lives generally. A more meek, mild mannered man you could not meet."