Jeremy Corbyn demands Theresa May resign as PM over cuts in police numbers
Corbyn said May should quit Number 10 after overseeing cuts to police numbers in the Home Office.
Labour leader Jeremy Corbyn has urged Theresa May to quit as the prime minister of the UK just three days before the general election on Thursday 8 June. The left-winger said May should make the move because of the 20,000 cut to police numbers she oversaw as home secretary.
"There have been calls made by many very responsible people on this who are very worried that she was at the Home Office for all this time, presided over these cuts in police numbers and that now we're saying that we're having a problem," Corbyn told ITV News on Monday 5 June.
"Yes we do have a problem, we should never have cut the police numbers."
The Labour leader's comments come after the London Bridge terror attack on Saturday night (3 June). At least seven people were killed and dozens injured by three terrorists who launched a van and knife attack on the UK capital.
The assault followed a suicide bombing at a concert in Manchester in May and another vehicle and knife attack on Westminster Bridge in March.
Steve Hilton, a former top aide to ex-Conservative Prime Minister David Cameron, has also called on May to resign, while a clip of May accusing the Police Federation of "crying wolf" has recirculated.
The Conservative premier, speaking in central London on Monday, accused Corbyn of "boasting" about opposing every single counter-terror law.
"In this election there is one leader who has made it his life's ambition to get rid of Trident, and one who is committed to keeping it," May said.
"One leader who has boasted about opposing every single counter-terror law, and one who has been responsible for passing them.
"One leader who has opposed the use of shoot to kill, and given cover to the IRA when they bombed and shot our citizens – and who now, in the midst of an election campaign, wants to do all he can to hide or deny those views.
"That's not leadership. It's an abdication of leadership. It's a failure to meet even the minimum requirement of the job of Prime Minister – to keep our country safe.
"Safeguarding the security of our country takes leadership. That is why since 2010 in the face of a growing threat, we have protected the budget for counter-terrorism policing – and increased the resources available to the security and intelligence agencies."
The latest opinion poll from ICM, of more than 2,000 people between 2 and 4 June, gave the Conservatives an 11 point lead over Labour (45% versus 34%).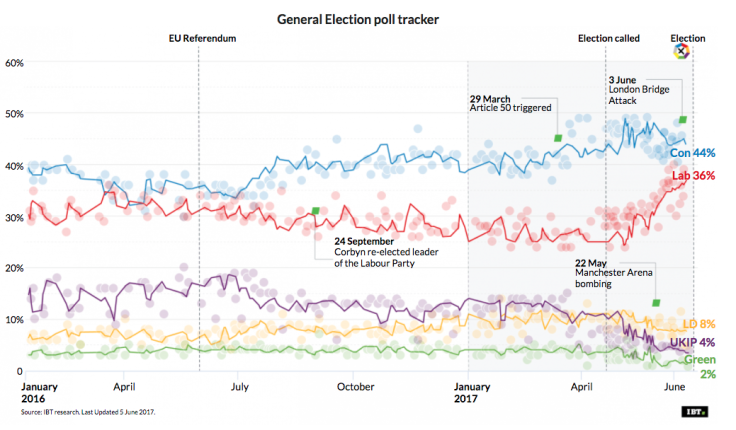 © Copyright IBTimes 2023. All rights reserved.