Following the short election pause following the London Bridge terror attack, Theresa May has returned to the campaign trail with a speech focused on Brexit and security.
The prime minister, speaking from Whitehall, talked about the importance of growth in the economy as Britain enters negotiations for Brexit.
Putting leadership at the heart of her speech, May said that if Jeremy Corbyn wins on the 8 June, "Brussels would think that Christmas had come early".
She made it clear that Britain needed a clean exit from the European Union, saying: "We do not seek to fudge this issue to be half in or half out of the EU."
But under the shadow of three attacks in as many months in Manchester and London, May said that "much more" had to be done to tackle extremism.
Rounding on Corbyn, she continued: "There is one leader who has boasted about opposing every single counter-terrorism law, and one is responsible for passing them."
She made it clear that authorities had to be more robust when trying to identify and then stamp out extremism and those who "seek to spread their poisonous ideology."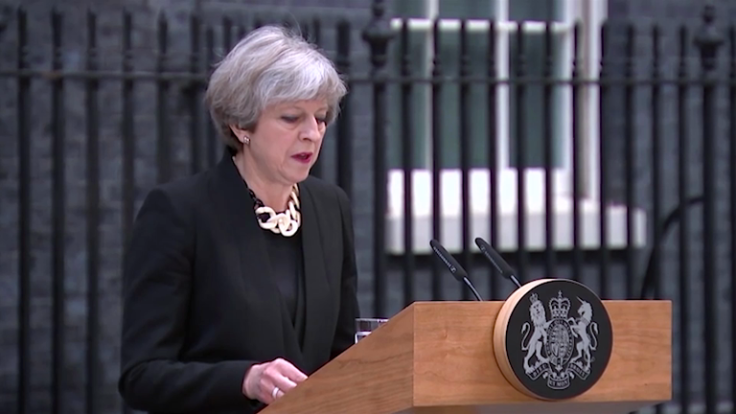 Roughly 20,000 police jobs have been cut since 2010, for the bulk of which time May was the home secretary.
She defended these cuts saying that the police budget was now protected, as well as giving more funds for an additional 1,500 armed officers.
She also added that the Mayor of London was doing a "good job", after he was criticised by Donald Trump in the wake of the attacks.
Speaking about Trump May added that she wasn't afraid to say when she thought Trump was wrong about something, such as withdrawing from the Paris Climate Accord.
Amid some foreign press saying that Britain was reeling after the attacks, May was asked if she felt that was the case: "I think that what we have is that resolute British courage and it is business as usual. We will not allow the terrorist to defeat us, we will defeat them."
There was an added focus on the economy and growth as Britain exits the EU, saying that as well as a strong economy, it was vital to have one that was fairer to all too.