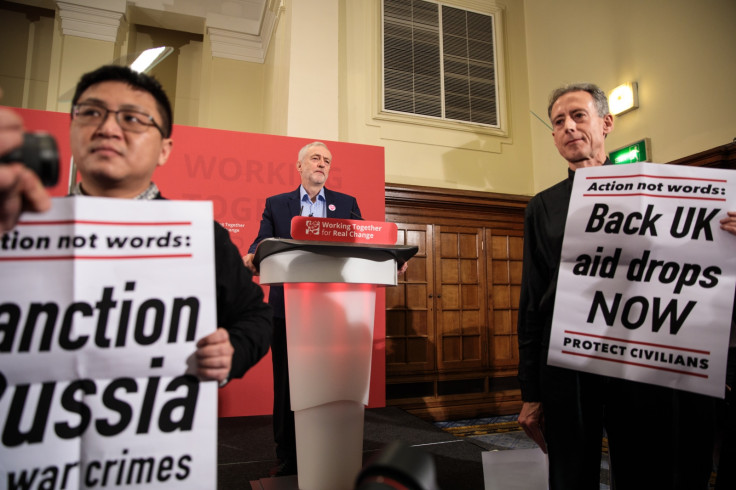 Jeremy Corbyn's speech on human rights was disrupted by human rights campaigner Peter Tatchell who was demanding action over Syria. The Labour leader was marking International Human Rights Day when demonstrators stood at the front of the stage and held up banners with slogans such as "Back UK aid drop now", "What actions have you taken to protect Syrians?".
As the protestors formed a line in front of the stage, Corbyn was heard to say: "It's all right. It's OK." The Labour leader also repeatedly asked Tatchell to postpone his protest until the end of his speech.
Tatchell was heard shouting: "What is happening in Aleppo is a modern-day Guernica.
"We haven't heard the leader of the Labour party speak out enough to demand UK air-drops to besieged civilians who are dying in their thousands."
"Hundreds of thousands of lives are at risk.
"We expect the leader of the Labour party to speak out and demand a vote in Parliament on UK air-drops."
After some confusion, Corbyn then briefly spoke to Labour peer Shami Chakrabarti before temporarily leaving the podium as the protest continued. The shadow attorney general advised Corbyn to "just let them do this".
After the protesters departed the stage, Corbyn thanked them for making their point. Some audience members were angry at the disruption but Corbyn said everybody had a right to voice their opinions.
Corbyn's speech at the Methodist Central Hall in Westminster on 10 December was to mark the signing in 1948 by the United Nations general assembly of the Universal Declaration of Human Rights.
Corbyn has accused Theresa May of sacrificing human rights "on the altar of the arms trade". "This week, the prime minister chose to travel to the Gulf to hold talks on security and negotiate arms sales to the dictatorial regimes of Saudi Arabia and Bahrain.
"Both countries are known for their abysmal human rights records: shutting down newspapers and TV stations that criticise the government; using torture in response to protests; imposing the death penalty or prison sentences on gay people; and crushing the rights of women.
"Saudi-led coalition bombing backed by the British government and UK military advisers has left thousands dead, 21 million people in need of humanitarian assistance and three million refugees uprooted from their homes."
He also condemned Boris Johnson's lack of action in the Middle East. "When the Foreign Secretary gets home will he at last be brave enough to back Labour's call to halt arms sales to Saudi Arabia, weapons that are being used to bombard civilian areas and carry out gross violations of human rights in Yemen while a genuinely independent UN inquiry is held?"