Former Liverpool star Jermaine Pennant is reported to have been caught taking part in an online sex show with his glamour model wife.
The 35-year-old was spotted offering assistance to Alice Goodwin, 32, during her X-rated pay-per-minute webcam performances.
An eagle-eyed punter claimed he knew it was Pennant, whose face remained off-screen, because of his distinctive tattoos.
The amateur sleuth told The Sun: "It's shocking to see how far he's fallen... maybe if he'd put as much effort into his sport he wouldn't be in this situation."
The newspaper reports that Pennant performed a sex act with Goodwin in one video.
Just hours after the story broke, non-league Billericay Town announced they had parted company with Pennant – leaving the once hotly-tipped winger without an employer.
Pennant has become something of a journeyman footballer in recent years having never fulfilled the potential that persuaded Arsenal to sign him for £2m ($2.8m) as a 15-year-hold – a record price for a trainee back in 1999.
He married Goodwin in May 2014 after leaving his first wife Tara Murphy, with whom he has a son.
Goodwin is an established glamour model and webcam performer, best known for her work with the Babestation brand.
She reportedly charges £6-per-minute for one-on-one webcam sessions and £4-per-minute for punters who want to watch as part of a group.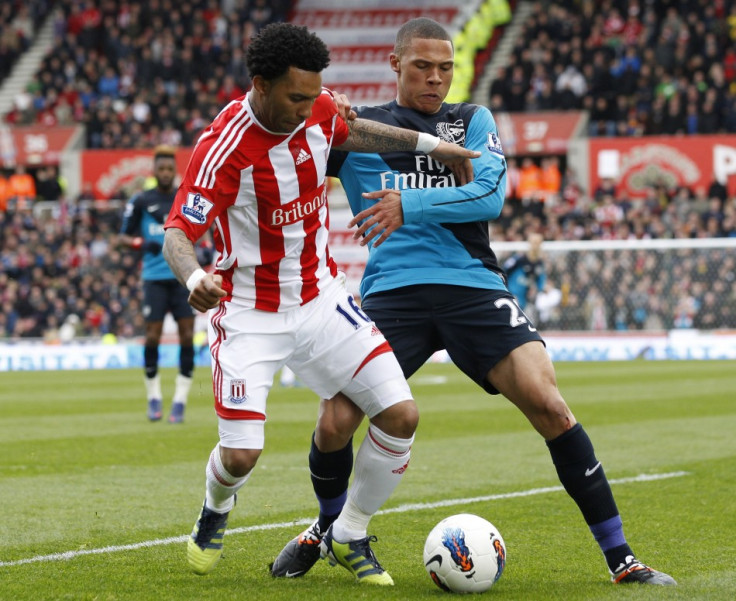 The viewer who claims to have exposed Pennant said : "This guy played in the Premier League and even the Champions League final. Not the sort of bloke you expect to see in a pay-per-minute sex show.
"It's really shocking to see how far he's fallen and that he's resorting to this to make money.
"He made sure that his face never appeared on screen — but if you follow football his tattoos are pretty unmistakable."
On 10 February, shortly after Pennant's webcam antics, Billericay Town announced on Twitter that they had released Pennant.
The seventh tier outfit said: "Today we announce the departure of Jermaine Pennant from the club. Everyone at BTFC would like to thank him for his contribution this season and wish him well in the future."
There were already rumours Pennant might be on his way prior to the incident. Billericay boss Harry Wheeler said earlier this week that the former England U-21 star had "issues to resolve".