Police in New York landed a huge catch when they found $10m (£7.2m) of a super-strength opioid stuffed inside dead fish and a bag of ground chilli.
The NYPD said officers found 4kg of fentanyl submerged in the foodstuffs – enough to kill a million people.
Police had had Johnny De Los Santos-Martinez, 35, under surveillance for some time when they noticed two large cooler boxes in the back seat of his car. They searched the boxes to find clumps of fish fillets and a vacuum-sealed pack of what appeared to be chilli.
On investigation, detectives found four large bricks of powder inside. Tests showed that the powder was fentanyl, an opioid 50-100 times stronger than heroin.
The drug has claimed the lives of an increasing number of North Americans including pop legend Prince.
The NYPD said that the wholesale value of the recent bust would be $100,000 but that it would yield $10m by the time it made it to the streets.
"Fentanyl is increasingly being mixed into the black market drug supply in New York City and is frequently found in combination with heroin, cocaine and a variety of synthetic drugs," it added.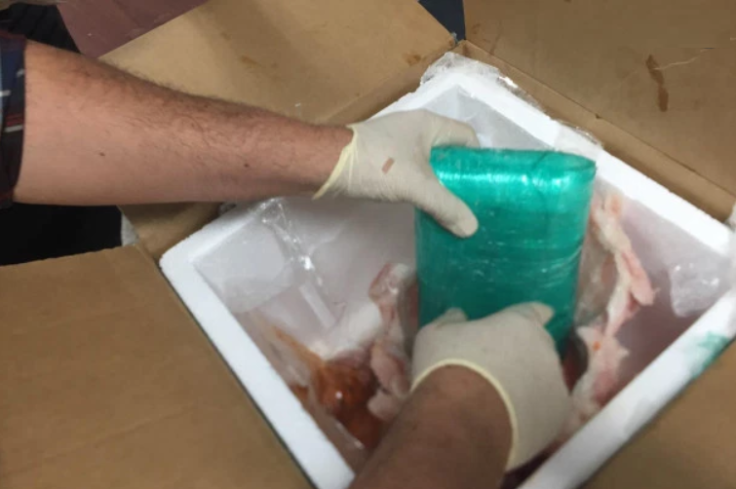 Fentanyl in the US
Although fentanyl is produced in US laboratories for legitimate painkillers, much of the US's illicit supply comes from black market labs in China.
Typically, fentanyl is mixed with heroin to strengthen the street drug. Users are attracted to the more potent mixes while dealers can maximise profits.
The risks inherent are numerous, however. It takes only a few grains of fentanyl to send even an experienced heroin user into overdose.
If the fentanyl is not spread evenly through the heroin then users can accidentally ingest a fatal "hotspot". Given the haphazard nature of drug production lines, this happens all too often.
Santos-Martinez has been charged with criminal possession of a controlled substance. He has been held on bail of £250,000, and is due to reappear in court on 28 February.