Britain's white male parliament only serves to bolster xenophobia and silence minority voices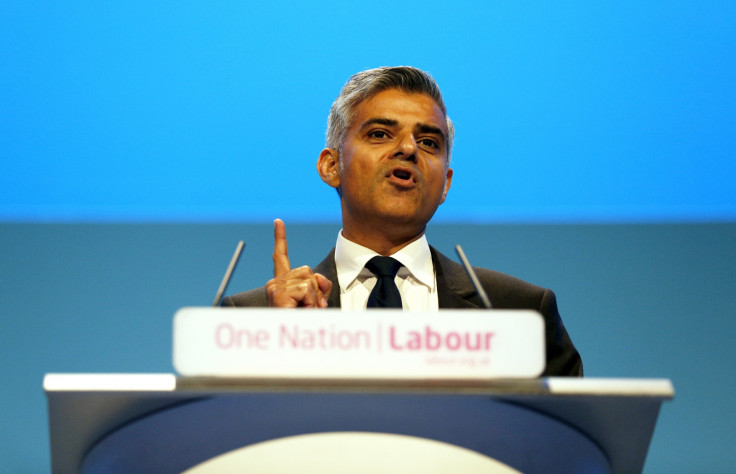 On 11 September, Sadiq Khan was elected as Labour's candidate for London mayor. Born in Tooting, south-west London, to a family of Pakistani immigrants, he became the second ever British Pakistani to serve as a minister when Gordon Brown appointed him as minister for communities in 2008.
London is the most ethnically diverse place in the UK; the 2011 census showed 40% of Londoners identified themselves as non-white, compared with 13% in the rest of the country. If anything, it's surprising that it's taken so long for an ethnic minority candidate to come to the fore.
But in the context of the UK political scene, where ethnic minority representation lags behind the population at large, perhaps it isn't so surprising after all. The day after Khan was selected as Labour's mayoral candidate, Jeremy Corbyn won the leadership election, and a media scrum ensued.
Diversity has been a hot topic, with intense debate triggered by Corbyn's decision to give the top jobs – shadow chancellor, home secretary and foreign secretary – to middle-aged white men.
There's something opportunistic about the focus on Corbyn's appointments, given he has also formed the first ever female majority shadow cabinet, and since many of the commentators criticising him have never shown much concern about quotas of women and minorities before.
But the broader question of diversity in parliament is worthy of discussion. Why is it important? And why, in 2015, does a properly representative legislative seem so distant?
Leading the way on minority representation
The first cohort of ethnic minority members of parliament was elected in 1987. Diane Abbott, Paul Boateng, Keith Vaz and Bernie Grant were all Labour MPs; the party has traditionally led the way on minority representation. It was a breakthrough moment, and since then, the number of MPs from ethnic minority backgrounds has slowly increased, with non-white candidates being elected for all the three main parties.
In 2015, the largest ever number of ethnic minority candidates was elected – 41, an increase from 27 in 2010, meaning non-white MPs make up 6% of the House of Commons. It's an improvement, but still a long way from being properly representative. To reflect the ethnic make up of the UK, where 13% of the population identifies as an ethnic minority, we'd need 117 non-white MPs.
Responding to the results, Simon Woolley, director of non-partisan pressure group Operation Black Vote, welcomed the progress made but added: "Although this is encouraging and a positive development, it's simply not good enough in terms of composition of parliament.
"The only way we can address this in the short and medium term is to have a comprehensive programme of recruitment, retention and promotion of black political talent. Otherwise we will always have to play catch-up."
It is this element of "playing catch up" that makes questions about shadow cabinet positions controversial. There has only ever been a handful of ethnic minority cabinet ministers.
Sajid Javid, secretary for business, innovation and skills, is of Pakistani origin, but he is one of just two ethnic minority ministers on the Conservative frontbench. (The other is Priti Patel, who holds the employment brief.)
It's a knotty issue. One argument is that many of parliament's 41 ethnic minority MPs were newly elected in May; to promote anyone too quickly risks the accusation of tokenism.
But in previous years, too, ethnic minority politicians – some of whom have decades of parliamentary experience – have been passed over. The focus must be not only on getting people from a diverse range of backgrounds elected, but on retaining that talent and giving people the opportunity to develop.
Quota quandary
Why does this matter? Simply because our institutions should be representative. One argument commonly put up against using quotas is that membership of a certain group doesn't necessarily mean you will represent its interests: a female MP isn't bound to vote for pro-women policies.
That's true, but diverse backgrounds unarguably provide a difference of perspective. Naz Shah, the newly elected Labour MP for Bradford West, is the survivor of a forced marriage. She has a first-hand understanding of this issue, and of others afflicting the impoverished Pakistani immigrant community that she grew up in.
A privately educated white man from the Home Counties will not share that first-hand understanding. Those differences in perspectives, those ways of talking to different types of voters, are hugely important if we want effective policies for the whole country.
There have been improvements in minority representation in parliament – but we live in a political climate where anti-immigration rhetoric easily blurs with xenophobia. David Cameron's comment about "swarms" of migrants at Calais was reminiscent of Margaret Thatcher's description of alien cultures "swamping" Britain.
These are not words that play well with ethnic minority voters. And this is important not just as a point of principle but also in practical terms if political parties want to keep winning elections. Ethnic minorities are projected to make up 20% of Britain's population by 2030 and 30% by 2050.
The minority vote
These numbers could be decisive. Research by think tank British Future found the Conservatives had increased its share of the ethnic minority vote in 2015 and that this support – largely from Asian voters – contributed to its victory.
Strategists for every party, particularly those that aim to form governments, recognise new thinking is required if they want to continue to be electable. Even Ukip fielded a significant number of ethnic minority candidates in 2015.
The need to attract the minority vote is clear; the tactics less so. British Future found Labour was still the most popular party among ethnic minorities, but this was slipping. The party is reluctant to play too heavily to its voter base in ethnic minority communities, for fear of alienating the white working classes.
All parties vie to be tough on immigration without sounding intolerant of difference. We need a holistic approach, which encourages people from ethnic minorities to stand for parliament, and which utilises their talent once they are there.
Seeing people of colour in positions of authority is culturally vital; it is important for young people from those backgrounds to see people who look like them represented in the halls of power. But, of course, it is what you do with that power that matters.
Khan, for his part, was the politician to launch Labour's black and minority ethnic manifesto in May, which pledged to use quotas to increase diversity in key areas of public life. We need a government, and an opposition, that speaks to minority voters and defends their interests.
---
Samira Shackle is a freelance journalist based in London. Follow her on Twitter @samirashackle.
---
© Copyright IBTimes 2023. All rights reserved.