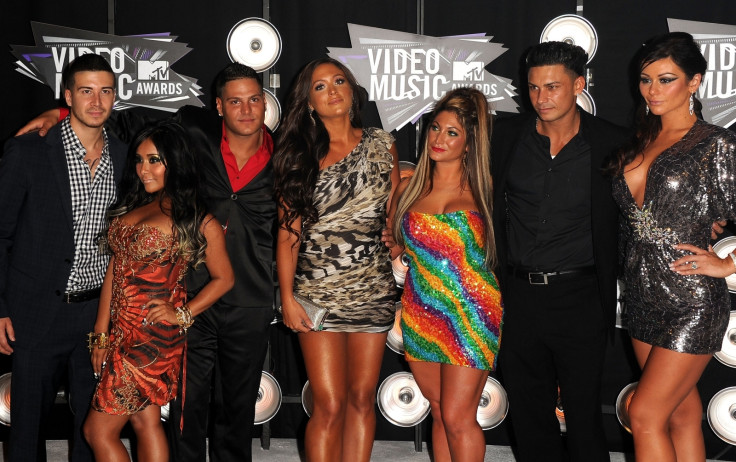 A Jersey Shore revival is in the works, but Ronnie Magro may not be a part of it. Reality Star Deena Cortese spoke about Margo's absence in the show's brief reunion in a recent Burger King commercial.
She told Us Weekly: "I believe he was in LA, so I'm not sure what he was doing. I haven't really spoken to him." Following the brief onscreen get-together, the other cast members began seriously planning for a reunion series — although Magro's presence is still unconfirmed. "I honestly don't know if anyone has spoken to him about it," Cortese was quoted as saying.
"Right now we're in a group chat with me, Pauly [DelVecchio], Vinny [Guadagnino],Mike [Sorrentino],Nicole [Polizzi], Jenni [Farley] and Sam [Giancola]. Ronnie's actually not in it right now, in the group chat, but we're all talking about it and we're all trying to figure out ways to make it happen," she continued.
The 30-year-old, however, thinks an offer will likely be extended to Magro, and explained that she cut off communication with her costar after he failed to reach out when her father passed away. She told the outlet: "I'm sure he'd be willing to sign on. We just all haven't spoken to him. I think Vinny's the only one that really talks to him."
Speaking about the Jersey Shore revival, the TV personality is positive about it. "We're gonna do everything in our power to make it happen, even if certain people don't want to be involved or if certain networks don't want to pick it up. We're willing to go elsewhere and find someone that is willing to."
The revival episodes would be slightly different as the cast has changed over the past five years since the series ended in 2012. "I would just love to be back in the dynamic of all of us going out and even though we have kids or we're getting married, we'd still go out and have a good time, drink and show the world we're still this dysfunctional family. I'm sure me and Nicole would still have our little meatball time because we're both big winos. We love our wine now. We went from vodka to wine. We got pretty classy."