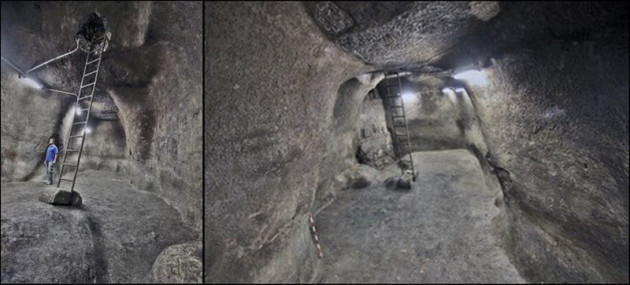 An underground, rock-hewn water reservoir dating to the First Temple period (1006-586 BCE) has been discovered in the Old City, near Western Wall in Jerusalem and two cisterns excavated nearby have led archaeologists to understand the water supply situation in ancient Jerusalem.
Gihon Spring was thought to be the major source of water enabling human settlement of the area called Jerusalem but now archaeologists say man-made public reservoirs played a prominent role in supplying water for the public.
"The exposure of the current reservoir, as well as smaller cisterns that were revealed along the Tyropoeon Valley, unequivocally indicates that Jerusalem's water consumption in the First Temple period was not solely based on the output of the Gihon Spring water works, but also on more available water resources such as the one we have just discovered," Israel Antiquities Authority (IAA) excavation director Eli Shukron said in a statement.
The reservoir was exposed during an ongoing excavation project in the Jerusalem Archaeological Garden, beneath Robinson's Arch, which should help understand the drainage channels of the city in the Second Temple period. According to the IAA, which is undertaking the excavation project, the channel runs north from the rock-cut Siloam Pool along the City of David, the oldest site of Jerusalem, to Robinson's Arch.
The reservoir, with an approximate capacity of 250 cubic metres, is one of the largest water reservoirs from the First Temple period to be discovered so far in Jerusalem and contains multiple layers of plaster, probably from the same period.
"The large water reservoir that was exposed, with two other cisterns nearby, is similar in its general shape and in the kind of plaster to the light yellow plaster that characterized the First Temple period," archaeologist Tvika Tsuk said, adding, "We can see the hand prints of the plasters left behind when they were adding the finishing touches to the plaster walls, just like in the water reservoirs of Tel Be'er Sheva, Tel Arad and Tel Bet Shemesh, which also date to the First Temple period."
Archaeologists noted the stone reservoir, which is located near the religious site of Temple Mount, was presumably used by the general public for bathing and drinking and for religious activities.