Jerusalem Temple Mount Clashes Video: Palestinian Man 'Seriously Wounded' as Yehuda Glick Supporters Visit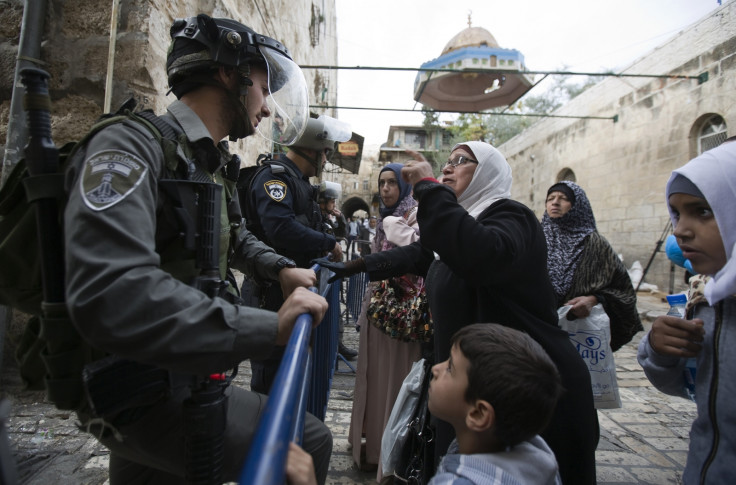 A Palestinian man was seriously wounded during clashes with Israeli police at a contested site in Jerusalem, Palestinian officials said.
Violence erupted near the hilltop compound known as Temple Mount to Jews and al-Haram al-Sharif (The Noble Sanctuary) to Muslims in the Old City, as Palestinians protested a planned visit to the holy site by Israeli supporters of a right-wing activist who was shot last week.
Masked demonstrators hurled stones and firecrackers and police responded using crowd-dispersal methods.
"Police entered the area, pushed the masked rioters back, and they fled back into Al-Aksa. Police closed the front gate of the mosque but did not enter," police spokesman Micky Rosenfeld told the Jerusalem Post.
In a video of the clashes posted online by Qpress, groups of people are seen running through the compound, as loud explosions are heard in the background.
Rosenfeld said that several police officers were hurt in the clashes. He tweeted:
Palestinian officials said that 20 people were injured in the violence, one seriously, with some reports suggesting that the man was hit by a sponge-tipped bullet fired by Israeli security forces.
The protesters had converged to the Temple Mount to block an announced visit there by supporters of Jewish activist Yehuda Glick who was seriously wounded by a Palestinian in an assassination attempt.
Glick, 48, was a campaigner for greater Jewish access to the compound holy to both Jews and Muslims.
Temple Mount has been administered by an Islamic Waqf (trust), under the authority of Jordan, since the crusades, while Israel has controlled access to it since the occupation of East Jerusalem in 1967, also implementing a ban on all non-Muslim prayers as a security measure.
Glick's suspect attacker, Moataz Hejazi , a 32-year-old convicted member of Islamic Jihad who served 11 years in Israeli prisons, was later shot dead by Israeli forces.
Jerusalem has experienced almost daily episodes of unrest since the abduction and killing of three Jewish teenagers in the West Bank in July, which was followed by the retaliatory murder of a Palestinian boy who was burned alive.
© Copyright IBTimes 2023. All rights reserved.