Jerusalem Unrest: Swords and Knives Hidden in Christmas Decorations Seized by Israel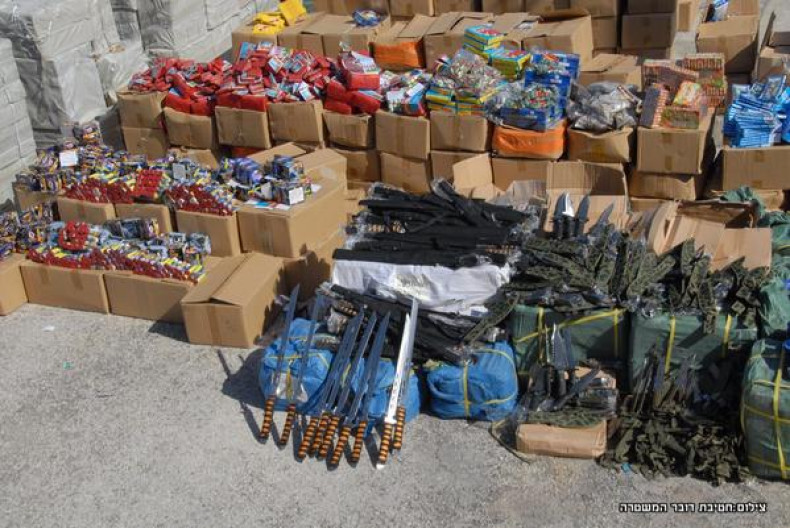 Israeli police seized a massive haul of weapons including swords and knives they believe were to be used by Palestinian rioters.
Two containers carrying 18,000 firecrackers of a restricted type, 5,200 commando knives, 5,500 Tasers, 1,000 swords and more than 4,000 makeshift electric shock devices, were intercepted in the northern town of Afula.
First, unloaded in the southern port of Ashdod, the shipment from China was addressed to Arab residents of the Beit Hanina district in east Jerusalem.
Israeli police spokesman Micky Rosenfeld tweeted:
Fireworks have become a common sight at Palestinian protests during clashes against riot police, as they are fired at security forces as an improper weapon.
The weapons were hidden amid Christmas lights and decorations, the Times of Israel reported.
Three Arab Israelis were arrested as they were unloading the cargo into a warehouse in Afula. The building owner was also held.
The police operation came amid growing unrest in east Jerusalem and the West Bank.
Tensions have continued to rise in the Holy City following a series of attacks against Israelis, including the killing of four worshippers at a synagogue.
Violence has been exacerbated by developments regarding the Temple Mount, or Al-Aqsa compound, which has witnessed clashes after proposals to enhance Jewish access to the religious site, where they are currently banned from praying.