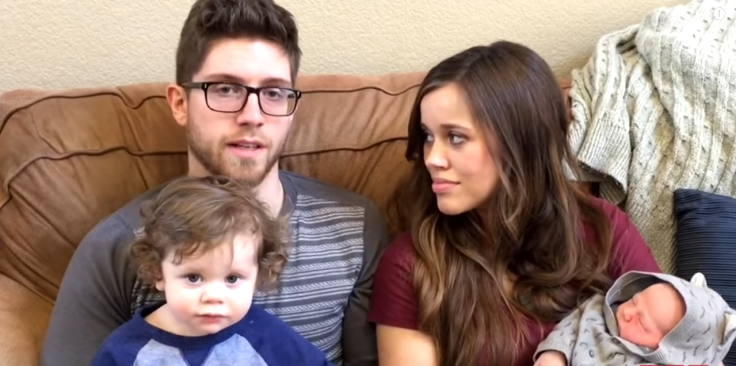 Jessa Duggar has written an emotional letter to her husband Ben Seewald on his 22nd birthday detailing their love story. In a letter posted on her blog she revisited their blossoming romance, which has now flourished to a family of four. Ben turned 22 on 19 May.
The Counting On star says she is "blessed" to share her life with her husband of three years and reminisced about their first meeting. "When first I laid eyes on you, a dapper seventeen-year-old young man, I never could've dreamt of what the future held for us," the 24-year-old wrote.
The third Duggar daughter is older than her husband and confesses that she had inhibitions that Ben may not be interested in an older girl. "I'd found out your age, and calculated that I was 2 1/2 years older than you. Surely he wouldn't be interested in an older gal, I reasoned. He's a teenager, and I'm already twenty!" she recalled. However Jessa was surprised to learn that her dream man was not worried about her age. "But on the other hand, it seemed that you already knew I was older and were trying to wait as long as possible to let me in on that fact. Could this mean that he does, in fact, like me, and is trying to avoid being written off because of his age?"
Jessa continued her story, which sounded nothing less than a straight liftoff from a romantic novel. "Over those next few months, we talked a lot during your visits. And the more we talked, the more I started to fall for you," she added.
Soon their love grew deeper and finally Ben asked Jim Bob for his daughter's hand in marriage. The couple got married in November 2014 and months later announced their pregnancy. The couple are now proud parents to Spurgeon Elliot and Henry Wilberforce.
Jessa gushed about Ben as the perfect husband who is generally the first to break the ice during their fights. "You've seen me at my best, and you've seen me at my worst. You hold me when I cry. You pray for me when I cannot pray for myself. You leave notes of encouragement for me to find when you know I've had a tough day. You're tender and compassionate. Nine times out of ten, you're the first one to apologize in an argument."
Jessa and Ben are one of the favourite couples from the well-known evangelical Christian family, whose life is documented through the TLC series Counting On. The Duggar Family's previous show 19 Kids And Counting was cancelled in 2015 after their eldest son Josh Duggar's sexual abuse case was exposed to the public.
The Duggar sisters, including Jessa, have now filed a privacy invasion lawsuit against the City of Springdale and In Touch Weekly.