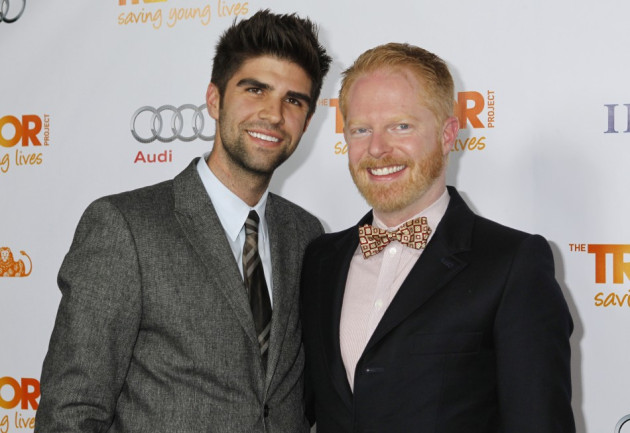 Modern Family actor Jesse Tyler Ferguson has married his partner Justin Mikita, at a ceremony in Manhattan, New York.
According to Us Weekly, the wedding was planned by Bryan Rafanelli and attended by over 200 guests, including Ferguson's co-stars Julie Bowen, Ty Burrell and Eric Stonestreet (who plays Ferguson's husband) on the show.
"There was a lot of laughter," a source told the magazine.
"What a happy day! @jessetyler @JustinMikita @TieTheKnotOrg I live you both!!" Top Chef host Padma Lakshmi, who was at the ceremony, tweeted.
"@JustinMikita got my heels ready!!! Not even bringing back-up flats!!! Xxox" Hollywood actress Rebecca Romijn posted.
Other close friends at the event included Jerry O' Connell, Zachary Quinto, Isaac Mizrahi and husband Arnold Germer, Nigel Barker, Cat Deely, Mary Murphy and Tyce Diorio.
Meanwhile, Sofia Vergara, who plays Gloria Delgado-Pritchett in the hit ABC series, could not attend the function but extended her wishes.
"Thinking of you! Wishing you the best in this beautifull adventure!❤@jessetyler @justinmikita" she wrote.
Ferguson and Mikita, who have been dating since 2011, co-founded Tie The Knot, which raises money for organisations supporting marriage equality for same-sex couples. The two announced their engagement in a video posted on the website last September.
In March, Ferguson revealed to Us Weekly why the two wanted a wedding in New York.
"We wanted to get married in New York, because that's where it's legal, so we want to support the state that's in support of us," he said, adding, "He [Justin Mikita] means a lot to me. So it's really special."