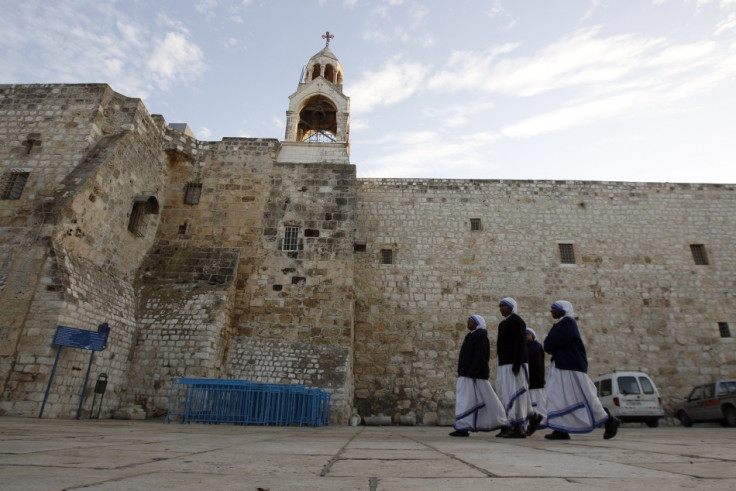 The Church of the Nativity in Bethlehem, the supposed birthplace of Jesus Christ, was added to UNESCO's World Heritage List on Friday.
The listing of Bethlehem on the UNESCO's list of World Heritage Sites came a year after the first bid, filed by the Palestinian Ministry of Tourism and Antiquities. The nomination was made with the hope a successful bid could boost tourism and earn Palestine a degree of recognition, as a separate state, from the United Nations.
In addition to the Church of the Nativity, the Pilgrimage Route was also placed on the List of World Heritage in Danger, as it suffers from damage due to water leaks, according to a statement released by UNESCO.
"The inscribed property is situated 10km south of Jerusalem on the site identified by Christian tradition as the birthplace of Jesus since the 2nd century. A church was first completed there in 339 A.D. and the edifice that replaced it after a fire in the 6th century retains elaborate floor mosaics from the original edifice. The site also includes Latin, Greek Orthodox, Franciscan and Armenian convents and churches, as well as bell towers, terraced gardens and a pilgrimage route," UNESCO said in the statement.
The new sites are the first World Heritage Sites in the Palestinian region.
Earlier Failed Nominations
According to officials, Palestine's bid last year was not considered because Palestine is not yet an UN-recognised state, the bid was not considered. In addition, the conflict with Israel was also a problem. Furthermore, despite a 2010 agreement between the latter two to allow tourists to cross borders, UNESCO's decision to include Rachel's Tomb in Bethlehem and the Cave of the Patriarchs in Hebron in a programme to renovate historical sites was criticised by Israel, which has already six of its sites inscribed on the heritage list.
Boost for Tourism
Tourism experts are hoping for a surge in arrivals post the inclusion of the Church of the Nativity and the Pilgrimage Route in UNESCO's World Heritage Sites list. According to official data, Bethlehem received more than two million visitors in 2011 and that's why a World Heritage Site tag is being seen as a catalyst to up the number of arrivals in 2012.
The other new sites from elsewhere in the world to have been inscribed on UNESCO's World Heritage List include Israel's Carmel caves - believed to be the site of human evolution at Mount Carmel; Rock Islands Southern Lagoon in Palau; Bali's rice terraces applying the Subak irrigation system in Indonesia; and Rabat, the modern capital and historic city of the Kingdom of Morocco.