JetBlue Airways is standing by its decision to eject a family of five from a New York-bound flight.
The airline claims the couple cursed at and threatened a passenger who complained their toddler was kicking the back of her seat.
Tamir Raanan, Mandy Ifrah and their three children were removed from the flight in Fort Lauderdale, Florida on 2 July incident after their one-year-old, Eden, began kicking the seat in front of her, the family's lawyer told The New York Post.
In a press release, attorney David Templer said Ifrah and the female passenger in the seat "exchanged a few words" before the woman moved to another seat.
The family says Ifrah apologised to the passenger but that did not stop a flight attendant asking the pilot to return to the gate and have the family removed.
However, the airline disputes that it was just the toddler's behaviour that got the family removed from the flight. JetBlue said the couple used "physical threats and profanities" against the woman in the other seat.
"The aircraft door was reopened and our airport's team politely asked the customers to step off to discuss the situation," JetBlue said in a statement.
JetBlue added: "The customers refused repeated requests and our crew members deplaned the entire aircraft. Law enforcement escorted them out of the gate area and we provided a refund."
In a video posted to YouTube, a JetBlue flight attendant is seen asking the parents several times to step off the plane to discuss the situation, ABC News reported. Both parents refuse, with Ifrah heard saying, "I'm not getting off this plane".
A second video shows the couple arguing with JetBlue staffers and law enforcement officials at the gate following their removal as they demanded to know if a female passenger was also being removed.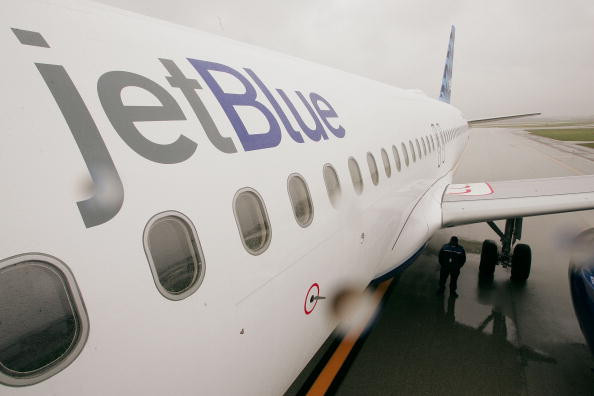 The couple said the flight departed for New York without them, but with all their luggage, stranding them in Florida without their belongings overnight.
When they returned to the airport, they were told by JetBlue that the family was "banned from all future flights and could not provide an explanation".
Their lawyer also denied that Ifrah used profanity or threats. "It's hard for me to believe that Ifrah would do something like that with a baby on her lap and with two other kids," Templer said to The Post.
"It's clear that this never occurred," he added. "This is just JetBlue's after-the-fact attempt to distract from the incident and assassinate the character of a family of five who were abandoned—after being humiliated—without their luggage."