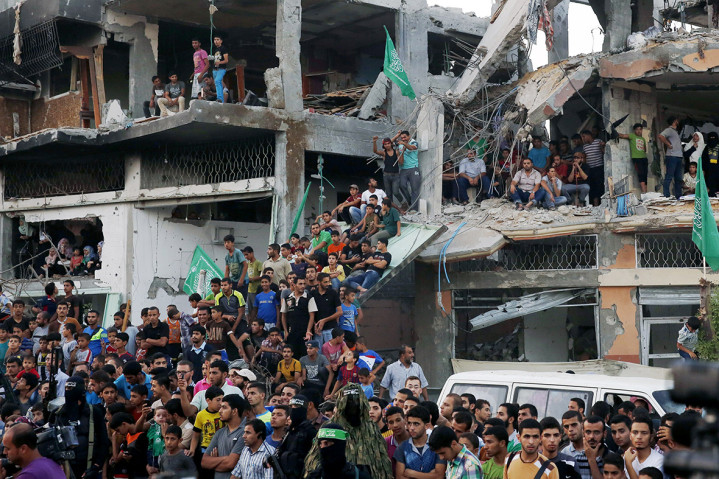 Jewish and Muslim leaders in the UK have united in their call for peace in the Middle East after Israel and Hamas agreed an indefinite ceasefire.
More than 2,000 civilians, mostly Palestians, died in the 50-day conflict in Gaza.
In an unforseen move, the Jewish Board of Deputies and Muslim Council of Britain (MCB) issued a joint statement condemning Islamophobia and anti-Semitism, and called for a "redoubling of efforts" in the community to build harmonious relations between both faiths.
"In spite of the situation in the Middle East, we must continue to work hard for good community relations in the UK," the statement said.
We must not import conflict. We must export peace instead."
The organisations also acknowledged that communities "may disagree about the origins, current reasons and solutions to end the conflict".
But according to the Jewish Chronicle, some controversy emerged after the two sides could not agree on the meaning of one key line, which read: "The targeting of civilians is completely unacceptable and against our religious traditions".
The Board of Deputies argued that this could be interpreted as specific MCB criticism of Hamas, which the MCB rejected.
A MCB spokesman said it believed both parties understood the line referred to the targeting of civilians by Israel and Hamas.
"It refers to both sides, Israel and Hamas. It's civilians that pay the price. On both sides."
But a BOD spokesman denied this and said: "We are very clear that the IDF does not target civilians; that's why we felt able to sign it."
The statement, however, is seen as the most significant step forward for both bodies since relations soured in 2009 over the Istanbul Declaration, which threatened violence against Israeli supporters and British troops.
Full statement of the Board of Deputies of British Jews and the Muslim Council of Britain