Few, if any, will mourn the death of Mohammed Emwazi, also known as Jihadi John, the Islamic State's (Isis) notorious British executioner who murdered by beheading on camera a number of high-profile hostages, among them aid worker Alan Henning and journalist James Foley.
Londoner Emwazi, 27, is thought to have been killed in an US air strike on Raqqa, Syria, which is the IS capital. US officials said they are almost certain Emwazi, who they have been targeting, was a casualty in the bombing. Prime Minister David Cameron said the UK had been working "hand in glove" with the US in the fight against IS.
"I have always said that we would do whatever was necessary, whatever it took, to track down Emwazi and to stop him taking the lives of others," Cameron said. "We have been working, with the United States, literally around the clock to track him down. This was a combined effort. And the contribution of both our countries was essential.
"Emwazi is a barbaric murderer. He was shown in those sickening videos of the beheading of British aid workers. He posed an ongoing and serious threat to innocent civilians not only in Syria, but around the world and in the United Kingdom too. He was Isil's lead executioner, and let us never forget that he killed many, many Muslims too. And he was intent on murdering many more people. So this was an act of self-defence. It was the right thing to do."
Some have expressed concern at what they say is the "extrajudicial killing" of yet another British citizen, believing it to be tantamount to an unlawful assassination. Instead, they want capture and trial. But the government regards those fighting for IS to be enemy combatants who, if they cannot be captured, must be killed because they pose a threat to the country's security by plotting terror attacks in the UK and elsewhere. Therefore, such killings are justified as acts of self-defence.
This was the reason the government gave for authorising the RAF to kill two British citizens, fighting for IS, in a drone strike. Reyaad Khan, 21, from Cardiff, and Ruhul Amin, 26, from Aberdeen were two killed by a Predator missile on 21 August, in Raqqa.
It was a unilateral RAF mission to take out Khan, who was allegedly plotting terror atrocities on British soil. Amin was travelling in the same car as Khan when it was hit. A third British national, 21-year-old Junaid Hussain from Birmingham, was killed in a US air strike days later. He was also accused of planning terror attacks in the West, including Britain.
There are also questions about whether or not the UK has a specific "kill list" of targets in IS. Clearly the UK and US are willing to take out those they regard as threats. There are estimated to be at least several hundred, if not more than a thousand British citizens living in and fighting for the terrorist group. Some are higher profile than others and would be a greater priority for the intelligence services. So the question now is this: who is next on the secret kill list?
Hamayun Tariq
Also known as Abu Muslim al-Britani, the 38-year-old from Dudley is a car mechanic who has boasted of his bomb-making abilities and a history of fighting for the Taliban. He used Twitter to share his notes on how to make bombs. While in the UK, he spent three-and-a-half years in prison for banking fraud.
Nasser and Aseel Muthana
The pair are brothers from Cardiff. Nasser, 20, was a medical student before running away to fight for IS. Aseel, 18, was at school. Nasser can be seen in one of the group's beheading videos.
Aqsa Mahmood
Glaswegian Mahmood, 21, is not just a jihadi bride but a signed-up militant who joined the female al-Khanssaa Brigade, which enforces Islamic law. She has praised various terror attacks on Westerners and called for more.
Sally-Anne Jones
Jones, 46, was married to Junaid Hussain, the young British militant killed in a US air strike. She is thought to have been helping him plot terror attacks in Britain by recruiting jihadis online.
Omar Hussain
Hussein, 27, is originally from High Wycombe, where he worked as a security guard at Morrisons. Since running away to fight for IS he has made a number of threats to bomb the UK and tried to recruit more British jihadis to come to Syria.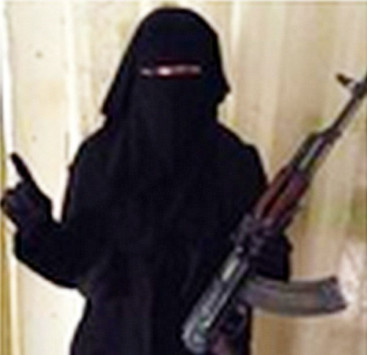 Shabazz Suleman
The 18-year-old from Buckinghamshire was captured by the Turkish police, but released back to IS in a prisoner exchange. Suleman told The Times his "brothers" in the West were ready to attack and "just waiting for the order".
Grace Dare
South Londoner Dare, also known as Khadijah, was raised a Christian before converting to Islam in her late teens. The 23-year-old said on social media that she wished to be the first British woman from IS to murder Westerners.
Ismail Jabbar
Jabbar, 23, worked for House of Fraser before leaving the UK to join IS, where he has been an active fighter, often posting pictures to the internet of him standing over corpses. He has also used social media to call for terror attacks in the UK.