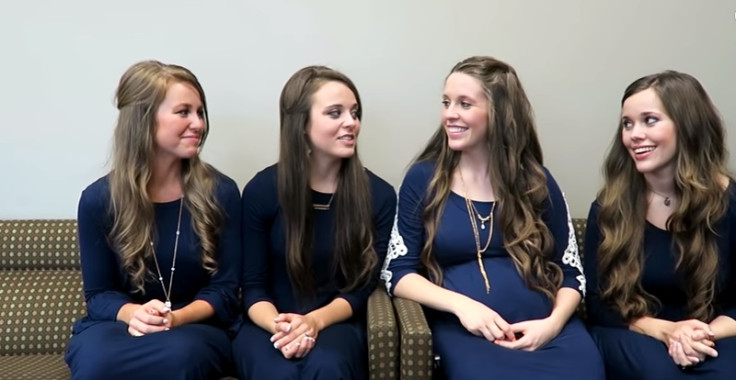 Michelle Duggar's cryptic blog about bitterness in a relationship has sparked rumours that Jill Dillard is "jealous" of Jinger Vuolo. In her lengthy post, the mother of 19 asked busy mothers to think about joy.
"Taking care of little ones, working with older ones, work pressures, and relationships can all put a stress on our joy. One particular thing that came to me while reading is that bitterness can also steal our joy. Having bitterness in our spirit robs us of life's most beautiful moments," the 50-year-old reality star wrote.
According to the family's parody page, Life Is Not All Pickles, Jinger's husband Jeremy Vuolo is not very fond of the Dillards and has often criticised the family's missionary work in Central America. In a YouTube video, the 29-year-old former American footballer gave a sermon about Philippians: God's Sovereignty in Establishing His Church. However, he took it as an opportunity to slam missionaries who "have never been established by a local church."
Jill and Derick's missionary work in El Salvador has always come under the scanner by Duggar fans, but it seems Vuolo just knocked the Dillards by calling missionaries unapproved by the local church as "unqualified, uncalled, unconfirmed, unsent zealots" that "cause more damage than they do good".
Vuolo also slammed people who hitch on to the missionary bandwagon as an excuse not to earn for themselves. "They're just Lone Ranger types running around solo asking churches for money to support them. They don't want to work to support themselves, give themselves to study, or give themselves to the necessary abandoning of comfort required to do damage to your flesh."
Soon after the YouTube video surfaced on the internet, Derick took a dig at his brother-in-law by tweeting a proverb from the Bible: "When words are many, transgression is not lacking, but whoever restrains his lips is prudent."
Fans have also noticed that sisters Jinger and Jill are not following each other. They also chose to ignore their respective husbands' social media accounts.
Michelle probably sensed the bad blood amid her daughters and their families and tried to give a lesson to her family on how comparing each other and jealousy affects a good relationship. "Having bitterness in our spirit robs us of life's most beautiful moments. Comparing ourselves to others, envy, and jealousy all lead down a road to bitterness. Bitterness can cause us to be harsh and to treat others unfairly—sometimes unknowingly!" she wrote.
The Duggar family has a huge fan following despite the Josh Duggar sexual and cheating scandal. However, the daughters of Jim Bob and Michelle have always been at the centre-stage, thanks to TLC's spinoff show Counting On. Jinger and Jessa have always been popular with fans who remain interested in their lives.
Jill and her husband, on the other hand, have been severely criticised for their missionary work and never really had a great fan following compared to other members of the family. Jill, who is eight months pregnant, even announced her baby boy's name before birth but the news did not make waves like it did for Jessa.