Designer shoe brand Jimmy Choo said it boosted sales in its first six months of the year despite "challenging market conditions".
The group – whose shoes were made famous by the character Carrie Bradshaw in Sex and the City – said adjusted earnings jumped almost 13% to £31.3m in the half-year to the end of June.
It said it grew revenues in its Asian markets, particularly China, although it labelled trading in the US as "difficult."
The business, led by chief executive Pierre Denis, added group sales lifted just over 9% to £173.1m in the period.
The firm, which operates more than 140 stores around the world, opened six new stores in the period. It added that in the second half of the year it planned to open 10 franchises in markets that include Qatar, Chile, Japan and Kazakhstan.
The London listed group, which is celebrating its 20th anniversary, said it expected to trade strongly in the second half of the year due to a weaker pound following the UK's Brexit vote.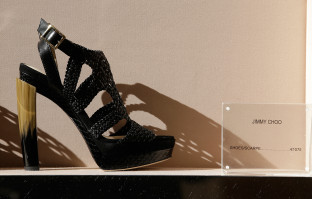 Chairman Peter Harf said: "This is an impressive set of results and it is of great credit to Pierre Denis and his talented teams that they have achieved both growth and margin expansion in such challenging market conditions."
The group's statutory pre-tax profit fell 67% to £6.6m, largely due to a revaluation of certain financial instruments its uses.
The business, which also sells bags and accessories, was founded by former Vogue accessories editor Tamara Mellon and Malaysian designer Jimmy Choo, who opened their first store in 1996.