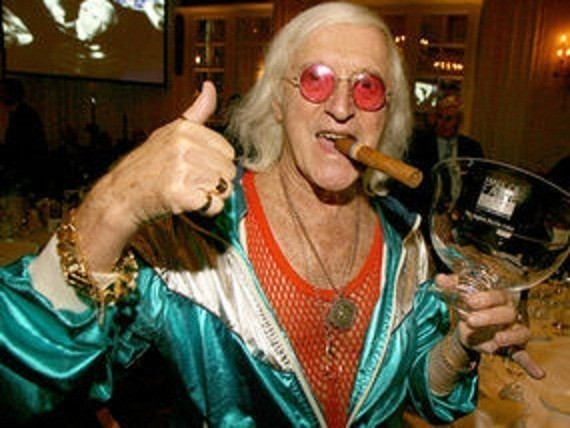 Jimmy Savile used a previously unidentified hospice for the terminally ill to sexually abuse its patients and staff, according to a police report to be published this week.
The report will identify every location where Savile abused his victims over 60 years. The list will include at least one hospice, according to a source close to the investigation.
A further ten hospitals are now the subject of complaints against Savile, along with the three already known about: Stoke Mandeville; Broadmoor; and Leeds General Infirmary.
Peter Saunders, chief executive of the National Association for People Abused in Childhood, told the Sunday Times: "This will really shake people. There seems to be no end to the places where that guy attacked people."
Mark Williams-Thomas, the former detective whose ITV documentary led to a flood of victims coming forward, added: "There seems to be nowhere Savile went where he did not abuse people."
Savile is also known to have kept a room at the Stoke Mandeville hospital in Aylesbury, Buckinghamshire. "We are unable to comment as we are helping police with their investigation," the hospital said in a statement.
The revelations emerged as lawyers acting for Savile's victims moved to probe the late BBC DJ's finances, believing he may have hidden some of his fortune offshore. They have written to the executors of the star's £4.3 million will, demanding an investigation into claims he siphoned off money from his charitable trusts.
One lawyer acting for the victims has now written to NatWest Bank, demanding answers. Alan Collins, of Pannone Solicitors, calculates that Savile could have amassed a fortune far in excess of the sum revealed in his will, with the true figure estimated at more than £20 million.
Collins said: "Savile was the number one celebrity in this country for more than 20 years. He had no dependents, was not a spendthrift and only had modest properties and very few luxuries, like his Rolls-Royce.
"I have written to lawyers acting for the executors of his will, asking for an urgent forensic examination of his assets and accounts.
"If he had left £20 million or more then that would have been a more realistic and understandable amount. It just doesn't add up. Quite simply, we are asking: what happened to Jimmy Savile's millions?"
NatWest announced in November 2012 that Savile's estate and assets had been frozen following the sexual abuse claims.
Police from Operation Yewtree arrested the comedian Jim Davidson on 2 January, although his arrest was not related to the Savile investigation. The identity of another "high-profile celebrity" has also been revealed on the internet as one of nine suspects to have been questioned by Yewtree officers.
READ: Did Jimmy Savile Sexually Abuse Corpses at Stoke Mandeville? [VIDEO]