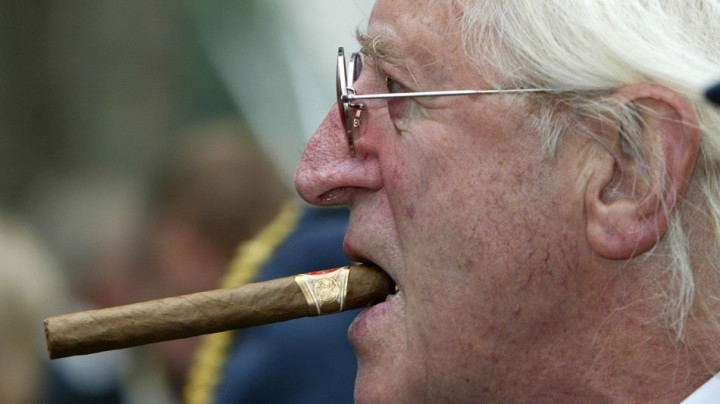 A councillor has called for the body of Jimmy Savile to be exhumed and cremated following complaints that a child is buried close to the alleged paedophile.
The demand comes just hours after Scarborough Borough Council decided to remove the former TV presenter from its list of Honorary Freemen, which he joined in 2005.
The council voted to erase Savile's name from the roll of honour following allegations that he sexually abused hundreds of young people during his career.
At the meeting, which was held last night, the council voted in favour of the proposal put forward by Councillor Tom Fox.
Fox said: "This council wishes to send its heartfelt support to, and acknowledge the courage of those who have come forward having suffered horrendous abuse at the hands of the alleged serial predatory sexual offender, Jimmy Savile.
"Whilst recognising the police enquiry continues, the revelations and public statements by the police leaves this council of the opinion that the removal of street signs and memorial plaque should be fully supported. It also supports the family's actions in having the headstone on his grave removed.
"In addition, this council, in further acknowledgment of the serious predatory sexual allegations spanning over six decades, agrees that if the council had been aware of such revelations at the time of Jimmy Savile's nomination for 'Honorary Freeman of the Borough of Scarborough' the council would have refused it.
"It is therefore proposed that his name be removed forthwith from the Honour Board for 'Freeman Of the Borough' pending the final report from the Metropolitan Police, when this council will make a permanent decision in relation to the matters referred to in this Motion."
Colin Haddington, councillor for Filey, also said Savile's body should be dug up and cremated out of respect for the families who visited the graveyard.
He said: "I was approached by one of my constituents who informed me that her granddaughter is buried in Woodlands Cemetery and unfortunately Jimmy Savile has been buried very close by this lady's granddaughter.
"This has caused a great deal of distress to her constituent and her family. I put it to the council today if Jimmy Savile's body could be exhumed or cremated."
Scarborough council did not action Haddington's proposals, however. The councillor said this verdict was disappointing, but recognised the decision to exhume and cremate Savile could only be made by the late DJ's family.
After Savile's victims began to come forward, the Jim'll Fix It presenter's headstone was removed from Scarborough Cemetery and broken up. A plaque that was defaced with the words "paedophile" and "rapist" has also been removed.