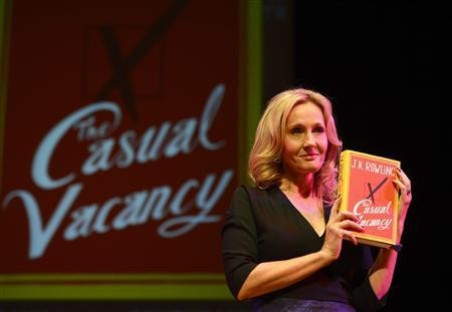 Her successful Harry Potter franchise made her millions and JK Rowling's first adult novel could be set to do the same.
The British author's dark comedy, The Causal Vacancy, is set to be adapted for TV by the BBC, it has been announced.
The broadcaster has commissioned the project which will see the book turned into a drama mini- series. Rowling will reportedly "collaborate closely" with the project.
Expressing her delight over the project, the award-winning writer said: "I always felt that, if it were to be adapted, this novel was best suited to television and I think the BBC is the perfect home."
Published in September, Casual Vacancy follows villagers in an apparently tight community as they deal with the unexplained death of a neighbour.
Despite receiving mixed reviews, the book has topped the global best-seller list, passing one million sales within weeks.
BBC One controller Danny Cohen said: "It is thrilling to be bringing the work of JK Rowling to BBC One audiences. JK Rowling's story-telling is of course peerless in its popularity, and I am looking forward to collaborating with her.
"This project highlights the ambition and scale of BBC One Drama, as well as the ability of modern television to attract the world's biggest talent and most exciting creative ideas."
The Causal Vacancy will air on TV in early 2014.