Jo Cox killing: West Yorkshire Police urged to investigate murder as 'domestic terrorism'
Less than 48 hours after MP Jo Cox was shot and stabbed to death, more than 5,000 people have signed a petition urging the West Yorkshire Police to treat her killing as an "act of domestic terrorism". Thomas Mair, 52, has been charged with Cox's murder and is due to appear at Westminster Magistrates' Court on Saturday 18 June.
A number of reports have indicated that Mair shouted "Britain First" as he carried out the attack, a possible reference to the anti-Islamic far-right group. There have also been suggestions that Mair was a regular supporter of the National Alliance, an American neo-Nazi group, and the SA Patriot, a pro-apartheid publication.
The petition, started by Monir A, reads: "All evidence so far suggests that the killer is a supporter of the far-right and the killing is politically motivated. If this man were Muslim and not white, it's highly likely authorities wouldn't hesitate to prosecute him for terrorism. By failing to recognise this act for what it is, the authorities simply feed racism."
It also goes on to note the official definition of "terrorism", which states that the "unlawful use of violence" against civilians "in pursuit of political aims" is what would be defined as a terrorist act. Over the last few days, many have compared Cox's murder to the murder of Lee Rigby, questioning why Rigby's killer was deemed a "terrorist" when Mair has not been.
According to the US-based Southern Poverty Law Centre, Mair had bought instructions to build a pistol from the National Alliance. The anti-bigotry group also revealed that he had subscribed to publications that instructed their readers on "Chemistry of Powder & Explosives", "Incendiaries", and a publication called "Improvised Munitions Handbook".
Cox's husband, Brendan, set up a fund in her memory for three causes that family and friends say were closest to her heart. The fund has raised more than £250,000 in less than 24 hours, with the money being donated to the Royal Voluntary Service, HOPE not Hate, and The White Helmets.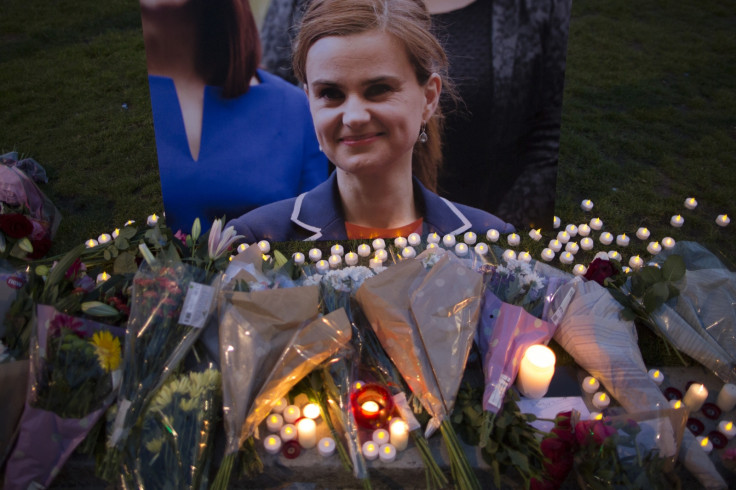 © Copyright IBTimes 2023. All rights reserved.