Jo Cox murder trial: 'Man stood over MP with gun and blasted her twice'
Witness claims attacker walked away 'like he hadn't got a care in the world' after shooting mother-of-two.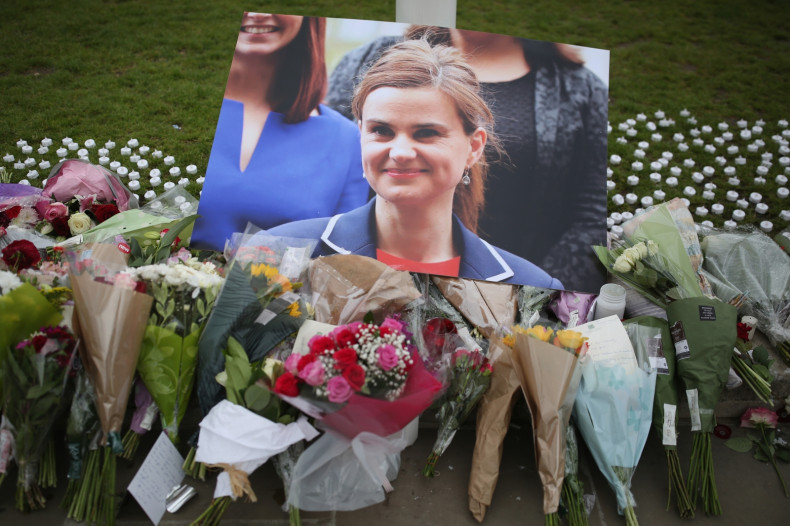 A witness in the Jo Cox murder trial has described seeing a man with a gun "blast" the Labour MP as she lay injured in the road before calmly walking away.
Cox, a mother-of-two, was shot and stabbed to death in Birstall, West Yorkshire, on 16 June. Thomas Mair, 53, an unemployed gardener from Birstall, is accused of the 41-year-old's murder – a charge which he denies.
The third day of the trial at the Old Bailey heard from pensioner David Honeybell. He said that he saw the attack unfold as he waited to see Cox at her surgery in the local library.
He told the court on Thursday (17 November) he heard shouting in the street, went outside and saw a man with a knife and a woman lying in the road.
He said he saw the attacker stand over the MP and shoot her at close range in the head and stomach.
"He just stood over her, cocked his gun and blasted her," he told the court. "[He] walked away like he didn't have a care in the world."
Another witness, Stephen Connolly, said the attacker looked "cold" and "just walked away" after the shooting.
Cox had been in Birstall to attend a surgery for her constituency of Batley and Spen. An anti-Brexit campaigner, she had been due to join a EU referendum campaign stall later that day.
Taxi driver Rashid Hussain told the court he had been dropping off a customer at a nearby supermarket before seeing a man, aged between 50 and 60 with facial hair, stab Cox "about five times".
Hussain said he dialled 999 before challenging the attacker, saying: "What are you doing? What has she done to you?"
Hussain then told the court: "He said 'Move back or I'll stab you'. I saw an Asian lady screaming, saying 'Jo'. She was the only person helping her. Jo's head was in her lap.
"He shot once then moved back and shot again. He was shooting behind the car where Jo was laid."
He said after the attack the suspect shouted "Britain first" – a phrase another witness also claimed he heard the attacker shout.
The court also heard testimony from Clarke Rothwell, a publican who was in a sandwich shop opposite the library when Cox was stabbed and shot.
He said he saw a woman slumped on the ground outside Birstall library, before seeing the attacker stand over her and shoot her. He said he heard the man say words like, "This is for Britain".
Jurors have been told that Mair had accessed "far right" material before Cox's death. This included, the court heard, internet searches on the Ku Klux Klan and Hitler's Waffen SS.
The court also heard how Mair had allegedly declared himself a "political activist" when he was approached by police moments after the attack.
He had also allegedly looked at information on .22 gun ammunition, including answers to the question: "Is a .22 round deadly enough to kill with one shot to a human head?"
On the first day of the trial, jurors were shown the .22 calibre rifle – with a large part of its barrel sawn off – and a dagger, that were allegedly used in the fatal attack.
Mair denies murder, grievous bodily harm with intent, possession of a firearm with intent to commit an indictable offence and possession of an offensive weapon – namely a dagger.
The trial continues.