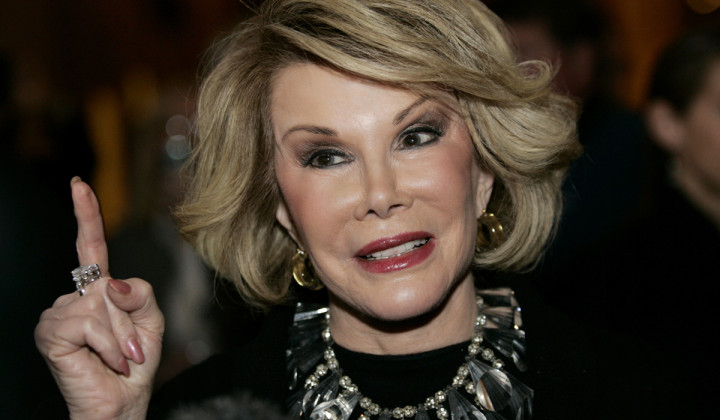 A surgeon at a New York clinic took a selfie with comedian Joan Rivers while she was sedated - just one of a catalogue of errors highlighted in a report from the US Department of Health and Human Services.
The TV star, 81, was admitted to Yorkville Endoscopy on 28 August for a routine throat operation but then stopped breathing and went into cardiac arrest. She was then transferred to Mount Sinai Hospital where she died a week later.
Shortly after her death her personal doctor, Lawrence Cohen, who was also the clinic's medical director was removed from the board and an investigation was launched by the New York State Health Department.
Now a joint report from the Centers for Medicare and Medicaid Services (CMS) and state investigators have revealed a range of errors carried out at the clinic in the lead up to her death, including failing to abide by its own cell phone policy.
According to the report, a staff member took pictures of Rivers with an unauthorised ear, nose and throat surgeon while she was sedated. The staff member allegedly said: "Maybe [Rivers] would like to see this in the recovery area".
Other highlighted errors included, "failing to identify deteriorating vital signs and provide timely intervention" during the operation as well as failing to "assure only credentialed physicians can perform procedures".
In a statement Yorkville Endoscopy said: "In response to the statement of deficiencies, Yorkville immediately submitted and implemented a plan of correction that addressed all issues raised."
Lapses at the clinic fell into four categories: governing body and management, surgical services, medical staff and patient rights.
"The regulatory agencies are currently reviewing the corrective plan of action and have been in regular contact with Yorkville," the clinic's statement added.
"In addition, the physicians involved in the direct care and treatment referenced in the report no longer practice or provide services at Yorkville. Yorkville will continue its commitment to complying with all standards and accreditation requirements."
A statement from Melissa Rivers via her lawyers, Jeffrey B. Bloom and Ben Rubinowitz, said: "Our client, Melissa Rivers, is terribly disappointed to learn of the multiple failings on the part of medical personnel and the clinic as evidenced by the CMS report.
"As any of us would be, Ms Rivers is outraged by the misconduct and mismanagement now shown to have occurred before, during and after the procedure. Moving forward, Ms Rivers will direct her efforts towards ensuring that what happened to her mother will not occur again with any other patient."
The New York medical examiner ruled Rivers died of "therapeutic complications" during a procedure to evaluate her "voice changes" and stomach reflux.