Comedian and TV host Joan Rivers has been taken to hospital after complications during throat surgery.
The 81-year-old US star reportedly stopped breathing while undergoing an operation on her vocal chords.
A representative for E! said that she was in a "stable condition" on Thursday.
A spokesman for the New York Police Department confirmed the reports saying: "An 81-year-old is in a critical condition at Mount Sinai Hospital."
An emergency call was made at 9.39am from an address in East 93rd Street, Yorkville, where it's believed Rivers suffered a cardiac arrest.
Her daughter and TV co-star Melissa was believed to be on her way to New York to be at her mother's bedside.
She asked friends to 'please pray' for her mother after it was revealed that she was rushed to hospital.
Just a day earlier, Rivers had attended an event to promote her latest book.
Barely a week ago she was filmed taking part in the Ice Bucket Challenge, during which she had a bucket of iced water poured over her after being challenged by Anne Hathaway, Sarah Jessica Parker, and Tara Reid.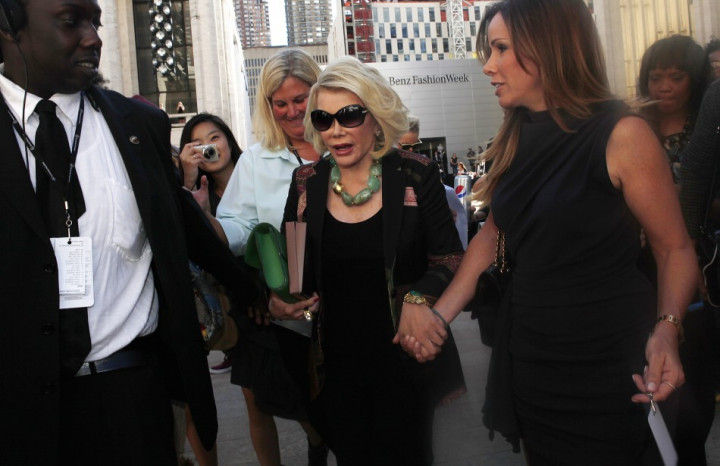 Host of E!'s Fashion Police Joan Rivers is famed for her acerbic wit and sniping rhetoric and is rarely far from controversy.
She is notorious for lambasting even A list celebrities and was blasted for brazenly saying that Kim Kardashian and Kanye West's baby daughter North was "ugly."
In 2013, she faced a backlash from the Jewish community for making jokes about the Holocaust and once compared supermodel Heidi Klum to a Nazi.
Rivers, who is Jewish, defended her comments saying: "This is the way I remind people about the Holocaust. I do it through humour."
She is also not averse to making fun of herself and often jokes about her extensive plastic surgery,
A reality star, Joan finished shooting her fourth series of her TV show with her daughter called Joan And Melissa: Joan Knows Best?
She is due to embark on a UK tour called Before They Close The Lid, starting in Oxford on October 10.