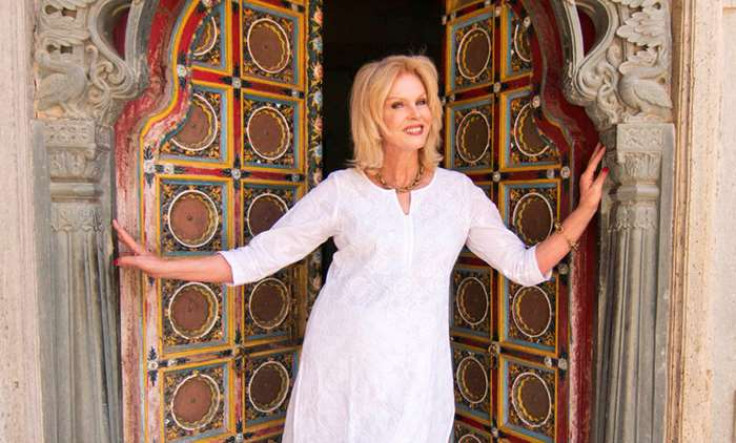 Joanna Lumley launches a new series about her adventures in India on ITV tonight (5 July) as she travels back to the country of her birth.
The 71-year-old actress was born in Srinagar, Kashmir and Jammu, to her English parents in 1946. Her father, Major James Rutherford Lumley, served in the 6th Gurkha Rifles, a regiment of the British Indian Army.
The first episode takes in the beginning of her epic journey in Tamil Nadu, where she witnesses religious ceremonies in glorious temples before visiting Gangtok in Sikkim – the place where her mother lived as a child.
Born shortly before Indian Partition, Lumley has always had an affinity with the vast sub-continent. The programme will see her celebrate its vibrancy and exuberance - but she's toned down the gushing since her Northern Lights trip.
She is also straight-talking when things don't go quite to plan, and is disappointed that clouds obscure the five peaks at Sikkim. A nonchalant Lumley also shrugs off a failed expedition to spot wild elephants, dismissing it with: "You can't click your fingers at nature and just expect it to be there."
The series includes plenty of other delights as Lumley flits from one destination to another with the energy of someone half her age. We'll see her dress up as a Tollywood goddess, eat street food and meet transgender youngsters. There's also a touching moment when she's shown a letter her diplomat grandfather wrote in 1930.
Despite being born in India, Lumley actually grew up in Kent, England, and did not receive any formal training at drama school before becoming an actress, specialising in playing upper=class parts. She has one of the most recognisable voices in the UK and has gained prominence as a voice-over artist for the likes of AOL and Simple skincare.
Alongside acting she is also known for her activism. She is probably best known outside the thespian world for her support for Gurkhas, the exiled Tibetan people and government, the Kondha indigenous people of India and the Prospect Burma charity, which offers grants to Burmese students. Lumley broadcast a BBC Radio 4 charity appeal in 2001, and her father also fought in World War II as a Gurkha officer.
Joanna Lumley's India airs tonight (5 July) at 9pm on ITV.