Liverpool are close to completing their second major signing of the summer after it was reported that Swansea midfielder Joe Allen has agreed terms on a contract with the Merseyside club.
There was a belief that Brendan Rodgers would not be allowed to sign any players from his former club Swansea, but a clause in the contract of the midfielder means that he can join one of the Premier League's top clubs for £15million.
The Evening Post has reported that a transfer fee is yet to be accepted and that Liverpool have tabled an offer of £12.5million plus the option to take a player on loan - believed to be midfielder Jonjo Shelvey.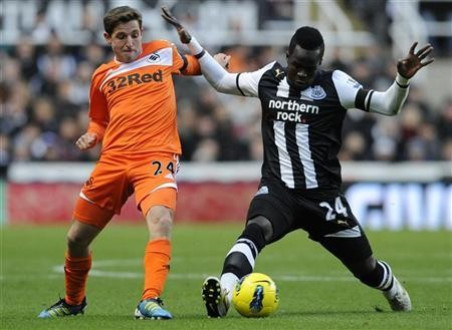 However, it seems Swansea want to hold out for the full £15million which would automatically trigger a release clause in Allen's contract which allows him to join Liverpool, Arsenal, Chelsea or either of the Manchester clubs for the stated amount.
Allen was a key member of the Swansea side that shocked everyone last season as they played a type of possession football that was only associated with some of the best sides in Europe.
Rodgers has clearly been keen for the Wales international to follow him to Anfield and, according to the reports, has made him an offer that will "set him up for life".
Allen came through the youth academy Swansea and has actually been at the club for some 13 years after joining as a nine-year-old and working his way through the ranks to become an important member of the first team.
The 22-year-old may well be a replacement for Alberto Aquilani who has been handed permission to meet with a number of Italian clubs to see if he can complete a permanent move away from Liverpool.
It seems unlikely that a deal will be completed within the next week though as Allen is currently tied up with the Team GB squad who yesterday qualified for the quarter-finals of the London Olympics after beating Uruguay 1-0 at the Millennium Stadium.
New Swansea manager Brian Laudrup has admitted that he knows there is real interest from Liverpool but he believes that there is no solid offer and negotiations will continue after the Olympics.
"There's no latest - he is with the GB team at the Olympics so I have not had the opportunity to talk to him since I arrived," Laudrup revealed to The Post.
"There's nothing concrete. I can read the papers talking about the interest - it's normal there is interest because the new manager of Liverpool is the ex-manager of Joe Allen.
"We all know he is a very good player, but I can assure you there's nothing concrete at this moment. Let's see what happens - I can't really tell you anything else right now."