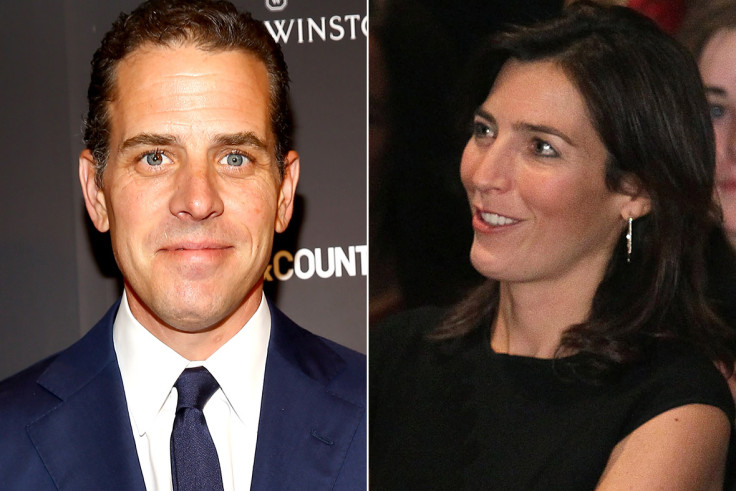 The son of former vice-president Joe Biden has been accused of squandering money on drugs, alcohol and prostitutes since separating from his wife in 2015. In a new motion filed in court at the end of February, Kathleen Buhle Biden claimed that her soon-to-be ex-husband Hunter Biden used drugs and was unfaithful during their 23 years of marriage.
The papers, obtained by the New York Post, offer a glimpse of the family's behind the scenes drama and detail the couple's tempestuous relationship.
Kathleen alleges that he "created financial concerns for the family by spending extravagantly on his own interests" during their split, leaving no funds to pay legitimate bills.
She adds of her former partner: "His spending rarely relates to legitimate family expenses, but focuses on his own travel (at times multiple hotel rooms on the same night), gifts for other women, alcohol, strip clubs, or other personal indulgences."
Kathleen cited "irreconcilable differences" when she filed for divorce in December 2016 and is seeking sole custody of the couple's 16-year-old daughter, the youngest of their three children.
While Hunter has refused to address the allegations, his lawyer Sarah Mancinelli said he admired her as "a person, a mother, and a friend".
The latest details emerged after Hunter confirmed he's in a romantic relationship with his widowed sister-in-law Hallie, who was lost her husband Beau Biden to brain cancer in May 2015.
"Hallie and I are incredibly lucky to have found the love and support we have for each other in such a difficult time, and that's been obvious to the people who love us most," the 47-year-old lawyer, and investment manager said in a statement " We've been so lucky to have family and friends who have supported us every step of the way."
According to Page Six, the new couple have the blessing of Biden and his wife Dr Jill Biden. "We are all lucky that Hunter and Hallie found each other as they were putting their lives together against after such sadness," Biden said. "They have mine and Jill's full and complete support and we are happy for them."