Former England and British and Irish Lions lock Ben Kay believes Joe Launchbury is the leading second row contender to travel on the Lions tour to Australia this summer.
Launchbury made his international debut during England's autumn series, enhancing his reputation as one of the country's finest emerging second row forwards.
The 21 year old has another opportunity to add to his burgeoning reputation in the Six Nations Championship, a group of games which often influence the selection of the Lions squad this year led by head coach Warren Gatland.
Kay, who won two Lions caps on the 2005 tour to New Zealand, admits Richie Gray's faulting form and Paul O'Connell's injury plight means Launchbury is the favourite for the 2013 tour.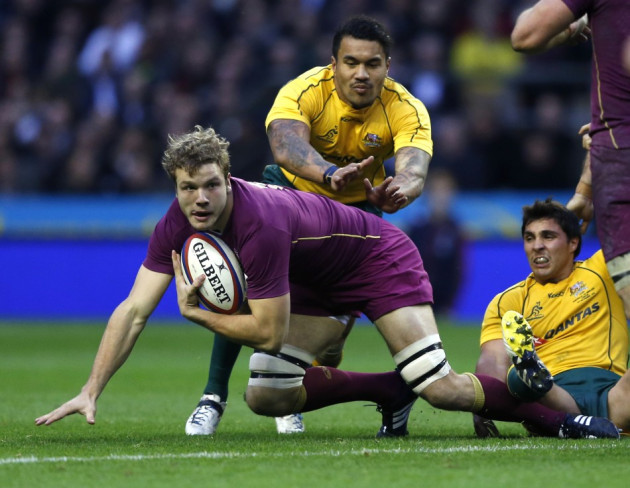 "If he carries on the same form that he did in the autumn I would have no hesitation in taking him," Kay told IBTimes UK.
"I'm sure Richie Grey probably still will go but his form for Sale hasn't been as good as last season. Paul O'Connell has been out injured for much of the year so I think Launchbery is in the driving seat.
"You pick on form and for me he's an outstanding prospect. The test will come when he makes a few mistakes and how he recovers from that.
"I'm hugely impressed, he seems to have everything in his armoury, and he's deceptively quick for his size and body shape.
"He's been starting in that line-out leader role ahead of Marko Wentzel at Wasps a couple of times this year so he's developing that string to his bow.
"He doesn't seem to do that much wrong; he's got the complete game.
"He's obviously going to have a huge future and he seems to have a huge temperament and attitude as well which is half the battle, he seems to have his feet firmly on the ground."
England begin their Six Nations campaign this weekend against Scotland off the back of an impressive end to their autumn program, which saw defeats to Australia and South Africa precede victory over world champions New Zealand.
The record-breaking win over the All Blacks was by many regarded as England's greatest ever win at Twickenham, but Kay is concerned the performance masked over a largely disappointing autumn for Stuart Lancaster's side ahead of the Calcutta Cup opener against Scotland.
"The danger in rugby is that people only ever remember the big events or the last game and England did have a disappointing autumn," Kay, an ESPN rugby TV analyst, added. "I think they've got to channel that slightly around the Six Nations which actually although the opposition might not be tougher the actual tournament's a tougher proposition.
"The autumn internationals are one-off games and as was proven, if you lose two against Australia and South Africa but you beat New Zealand everyone thinks you've had a great autumn.
"If you come out of the Six Nations having lost your first two games everyone's going to think you've had a pretty mediocre tournament.
"There are a different set of pressures and that tends to affect the style of play slightly and England need to get over that hurdle and particularly against Scotland almost force the game and make sure they go out to win the game rather than worry about not losing.
"On paper England are much stronger side than Scotland but everything points to an England victory. Scotland haven't won at Twickenham for so long and they had a pretty pour autumn themselves, they've lost their coach.
"England need to be careful, they need to respect Scotland, they're always capable of one big performance but they cannot afford to get into arm wrestle with Scotland where they capitalise on mistakes and England start to panic.
"The mind-set has got to be to go out and win the game and play at a really high tempo early on."
The impressive win over New Zealand in December has worked to swell expectations of Lancaster's team, 12 months on from the start of his interim spell in charge which began with a second place finish in the Six Nations.
While conceding a grand slam is beyond any of the teams this year, Kay says England must set their sights high in the Six Nations.
"The target from the outset every year has to be a grand slam," he said. "You never go in thinking 'well if we can win four games' there's just no point. They're not going in thinking we can afford to lose against France.
"Whether the RFU behind Stuart Lancaster have an agreed target that they're going for then it might be first or second in the table but that certainly wouldn't be passed onto the players.
"I think a grand slam is going to be really tough this year for any team but we'll have to wait and see."
"ESPNscrum and ESPN Classic are covering the RBS Six Nations on TV, online and mobile. The ESPNscrum Fantasy Rugby - 2013 International Game returns at ESPNscrum.com, and, ESPN Classic airs more than 40 matches from the tournament's past."